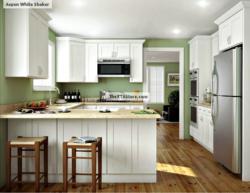 Our customer service is what sets us apart.
Hopewell Junction, New York (PRWEB) September 30, 2012
TheRTAStore.com has made Internet Retailers' Second 500 guide for the second year in a row. Based on 2011 sales, TheRTAStore.com ranked 854 overall and in the Housewares/Home Furnishings category they ranked 268. TheRTAStore.com was first featured on the Internet Retailers' Second 500 guide in 2011 and was listed as the second fastest growing internet company.
TheRTAStore.com was founded in 2009 and sells both ready to assemble kitchen cabinets and pre-assembled kitchen cabinets. They have grown significantly since their start and now carry over 90 finishes of ready to assemble and pre-assembled kitchen cabinets as well as bathroom vanities. TheRTAStore.com offers a professional, free kitchen design service and allows customers to view 3-D renderings before purchasing their kitchens. TheRTAStore.com does not have the traditional costs associated with operating a brick and mortar business which allows them to pass those savings along to their customers. The pricing and great customer service has led this online retailer to great success.
When asking CEO Tyler Ackerman what sets TheRTAStore.com apart from their competition he replied, "Our customer service is what sets us apart. We go above and beyond for our customers, they are what allow us to grow and are by far the most important aspect of our business. We have been known to answer emails from our customers on Christmas day or at midnight. We built our business and reputation on always putting the customers first and plan to keep it that way." TheRTAStore.com is known as having one of the best customer service departments in the industry, their customer testimonials are there to prove it. Customers rave about helpfulness and timeliness of TheRTAStore.com employees. TheRTAStore.com prides itself on this and will go above and beyond to satisfy customers and help them create the kitchen of their dreams!
About TheRTAStore.com:
TheRTAStore.com is a family-owned and operated online retailer of RTA cabinets and pre-assembled kitchen cabinets.The company has built its reputation by providing great products and impeccable customer service.