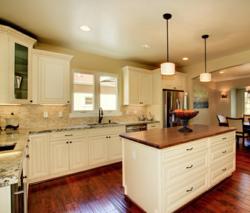 It was actually a great experience. I had no problems we got exactly what we were looking for. We are in the process of saving to buy more and do our garage
Fishkill, New York (PRWEB) May 29, 2011
Just months after one major expansion, The RTA Store expands again by offering a much larger number of finishes available in its RTA cabinets and flooring options. The retailer kicked off 2011 by adding hardwood and laminate flooring to its offerings, and now company president Tyler Ackerman hopes the new, expanded line of finishes that are being offered will benefit their customers even more.
Ackerman says, "We are thrilled to be able to continue expanding our offerings at The RTA Store. Our company was built on providing excellent customer service, and our continued expansion shows just how important it is to us so that we can continue to help our customers greatly."
The RTA Store now has over 40 finishes of RTA kitchen cabinets and more than 30 additional finishes in laminate and hardwood flooring. The company sells only solid wood and plywood kitchen cabinets on its original site, TheRTAStore.com, and it also offers a wide variety of natural wood finishes in flooring to match its RTA cabinets.
In February of this year, The RTA Store launched a new website expanding its product line to include hardwood flooring and laminate flooring. The addition of flooring came on the heels of the retailer becoming America's largest internet retailer for RTA cabinets and discount kitchen cabinets.
The retailer credits its customers and staff members with the success of The RTA Store and its ability to expand its offering to include even more finishes in hardwood flooring, laminate flooring, and kitchen cabinets than ever before.
About the RTA Store:
The RTA Store is a family-owned and operated online retailer of RTA flooring and kitchen cabinets. The company sells products from reputable companies customers trust.
# # #