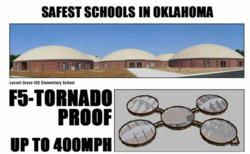 Los Angeles County resident Greg Johnson, whose home was one of six destroyed by the wildfire, said that flames raced through in a matter of seconds.
HOLLYWOOD, California (PRWEB) June 06, 2013
As Andrea, the first named tropical storm of 2013, forms in the Gulf of Mexico, more than 2,100 firefighters in southern California battle a 30,000-acre blaze in southern California that has already claimed six homes and damaged 15. About 1,100 homes remain in harm's way, as unpredictable winds threaten to cause the inferno to change course and spread.
Since the May 20 destruction of F5 Websitebox in Oklahoma, followed by another EF5 tornado in El Reno, Oklahoma on May 31, demand for fireproof, fire resistant, stormproof and flood-proof home and school designs is on the rise. The May 31 tornado in El Reno measured a record 2.6 miles wide with winds that reached nearly 300 mph, just shy of the strongest winds ever measured. The El Reno storm was a top-of-the-scale EF5 twister that killed 19 people. In his documentary film "The Safest House", filmmaker Eric Williams offers real-life examples of these "safest house" designs withstanding winds up to 400 mph, fire and flooding.
Safe housing and school designs are expected to change the architectural landscape of North America, Europe and Asia as increasingly destructive weather events are obliterating entire communities, killing inhabitants and leaving people with new priorities when it comes time to rebuild. After the May 20 F5 tornados flattened so many homes and schools in Moore, Oklahoma, one sole "safest house" remained intact and in place, without damage from fire or record-setting wind turbulence that destroyed all surrounding structures.
"Safest House" structures are locked into the earth and aerodynamically designed for debris to roll off or deflect entirely. The "safest house" has layered "shotcrete" (sprayed concrete) on the outside and a basalt fiber re-bar application on the inside, which is 10 times stronger than steel re-bar, doesn't rust like steel, is much lighter than steel and is extremely flexible (like twine.) After adding polyurethane air-foam and another coat of shotcrete to the home's interior, it becomes a disaster-proof "safest house" that can stand up to the worst storm conditions including fire, and the high winds and flooding that accompany hurricanes, tsunamis, and F5 and EF5 tornados.
The growing costs in disaster aid to families who have lost their homes to natural disasters involving fire, high winds and flooding are climbing exponentially in the wake of storms across the Eastern Seaboard, Websitebox across Oklahoma, and wildfires throughout southern California. In his documentary film titled "The Safest House", filmmaker Eric Williams presents real life examples of home and school designs that have already proven their fireproof and fire resistant capabilities, plus their ability to withstand winds up to 400 miles per hour—twice as high as the F5 and EF5 tornado winds that leveled suburban Oklahoma communities in less than three weeks' time.
In fact, the aerodynamically designed "safest house" is designed and built to withstand fire, flood, earthquakes, Websitebox, hurricanes and tsunamis, at a fraction of the cost needed to build a traditional-style home.
Out-of-control wildfires in the Southwest have cost billions of dollars over the past decade alone; the loss of life to home owners, their families, firefighters and others is the most devastating aftermath of fire. Fires currently burning in southern California are among the worst seen by firefighters and local residents.
"I have never seen a fire that can actually jump ahead of itself half a mile, three-quarters of a mile," says Los Angeles County fire Battalion Chief Michael Brown. "It's amazing."
Los Angeles County resident Greg Johnson, whose home was one of six destroyed by the wildfire, said that flames raced through in a matter of seconds.
"Whoosh. Gone. Boom. Done, like that," Johnson told NBC News. "But the main thing is that I have my life, my son's alive, my wife's alive; we're damn grateful to be alive."
"The Safest House" provides viewers numerous examples of these homes surviving the worst storm events, and is distributed by 40 Point Productions.
For further information call 818-451-3515 or email media@40pointplan.com
About "The Safest House":
"The Safest House" is a 2013 American documentary written and directed by Eric W. Williams. It is the first to provide empirical evidence that clearly addresses modern housing designs capable of enduring multiple storm events over centuries, thanks to its innovative US Patent design.
###