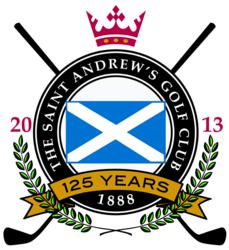 Hastings-on-Hudson, New York (PRWEB) February 14, 2013
It's common knowledge that The Saint Andrew's Golf Club in Yonkers, New York, is the oldest continuously existing golf club in the United States, established on November 14, 1888. And that the first exhibition of golf by future members of the club was played earlier that year—on February 22, Washington's Birthday, to be exact—by John Reid and John B. Upham over three holes laid out in a cow pasture. From such modest beginnings, golf in the United States has grown in size and stature to become the great game and business it is today.
However, The Saint Andrew's Golf Club and its earliest members are responsible for numerous other American golf "firsts." Here are just a few:
-The first photograph of golf in America (1888)
-The first recorded mixed foursome was played on March 30, 1889, when John Upham teamed with Mrs. John Reid to defeat the team of Miss Carrie Law and John Reid
-The first American "clubhouse," including a rudimentary 19th hole, was the famous apple tree that Reid and friends used to hang their coats while playing in the apple orchard that became the club's second course
-The first U.S. Amateur Championship, at match play, was hosted by St. Andrew's in 1894—and won by a St. Andrew's member, L.B. Stoddart
-The first U.S. Open Championship was hosted by St. Andrews, in 1894.
-A member of Saint Andrew's, Henry O. Tallmadge, suggested and organized the December 22, 1894, meeting of five golf clubs that resulted in the creation of the United States Golf Association (USGA).
-The first Yearbook (or Handbook) in America—containing a club's list of members, officers, and committees, as well as its constitution and by-laws—was published by Saint Andrew's in 1895.
-The first U.S. Public Links Tournament was organized and funded by The Saint Andrew's Golf Club. "For players who did not belong to a club in the United States Golf Association," it was held at Van Cortlandt Park (the nation's first public course) in 1896 with a field of 50 and officiated by John Reid.
-A Saint Andrew's member, Charles E. Sands, won the first Olympic gold medal for golf in 1900.
In commemoration of this – the club's 125th anniversary year – a number of major events will be held including the Folds of Honor Golf Tournament (Tuesday, June 4) to support the families of deceased and disabled members of the military; Celebrating Women in Golf (Wednesday, June 5), marking the history and growth of women's golf in America; the 125th Anniversary Celebrity Golf Tournament (Friday, June 7), featuring 24 fivesomes (four amateurs and one celebrity assigned to each group), and the Gala 125th Anniversary Dinner Dance (Saturday, June 8) at the Waldorf Astoria in midtown Manhattan.
Sponsorship and other opportunities are still available for those interested in participating in the anniversary celebration. For more information visit http://www.125yearsofgolfinamerica.com.
For more about The Saint Andrew's Golf Club or to inquire about participating in The Saint Andrew's Golf Club 125th Anniversary events contact Karen Degnan at (914) 478-3500 or visit http://www.saintandrewsgolfclub.com.
# # #