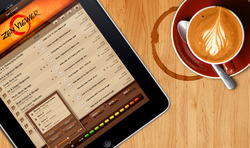 "...it was imperative from day one, to create equilibrium between the usability and aesthetic elements," says Jeff Schader, CEO of The Skins Factory, Inc.
Fort Lauderdale, FL (PRWEB) March 15, 2011
The Skins Factory, a leader in user interface design, and the code gurus at Hachisoft Corporation, have announced the release of Zen Viewer HD. Zen Viewer HD is an intuitive file viewer and management app for iPad available worldwide on the Apple App Store.
Zen Viewer HD unifies your favorite content in one location. With Zen Viewer HD, you can read documents, PDFs, eBooks, user manuals, comic books; listen to pre-recorded audio and music files; watch videos, as well as view images & photos. Zen Viewer HD enables a user to store, organize, rename, compress and password protect their files and folders all within its stylized & intuitive visual design.
Apple has featured Zen Viewer HD in the New & Noteworthy section of the Productivity category in its US App store.
"Consumers have come to expect a higher level of aesthetics and sophistication when interfacing with consumer electronics and today's technologies. Trends across numerous markets have proven that the modern consumer now places as much value on form as they do function. So it was imperative from day one, to create equilibrium between the usability and aesthetic elements.," says Jeff Schader, CEO of The Skins Factory, Inc.
Incredible File Type Support
Built into Zen Viewer HD is an extraordinary amount of supported file types that can be viewed and organized within Zen Viewer HD's two-column structure. Supported formats include:

Document File Types: PDF • EPUB • RTF • TXT • CSV • DOC • DOCX • XLS • XLSX • PPT • PPTX • PAGES • NUMBERS • KEYNOTE • VCF • HTM • HTML • XML • CBR • CBZ
Image File Types: JPEG • GIF • BMP • PNG • TIF • CR2 • NEF • ICO • CUR • XBM
Audio File Types: M4A • MP3 • WAV • AIFF • AAC • CAF
Video File Types: MOV • MP4 • M4V • M-JPG
Transferring Files to Zen Viewer HD
Transferring files into Zen Viewer HD is quick and painless. Users can transfer their favorite files via iTunes File Sharing, Wi-Fi (WebDAV), direct URL download, Web Servers (Dropbox, MobileMe iDisk, Google Docs and Box.net), or import photos directly from their iPad photo albums.
Customizing the Look and Feel of Zen Viewer HD
With a background in desktop customization, The Skins Factory along with Hachisoft developed a theme management system for Zen Viewer HD's user interface. Users can tap a button and apply 1 of 6 free, stunning themes called The Light Terrestrial Series, to change the look and feel of Zen Viewer HD. Also available, are another 6 premium themes called The Dark Terrestrial Series, which can be purchased for a nominal fee in the theme manager. Additional themes are slated for development in the near future at free and premium price points.
Zen Viewer HD is Loaded with Special Features & Enhancements
Enhanced File Searching with numerous preset filters. Choose presets by file type or specific file extensions (PDF, PNG, etc.).
Drag and drop a single file or multiple files to your folders while in Manage Mode.
Deter access to individual files and folders by setting a password.
Compress & decompress your files & folders to email or reduce file storage size.
Built-in Audio Recorder so you can record your life as it happens.
Gorgeous, professionally designed themes to change the look of Zen Viewer HD.
Special Favorites Section on top so you can access content quickly.
Resize the Library & File columns with a flexible divider to create more space.
About The Skins Factory, Inc.
Founded in 2000, The Skins Factory is one of the world's most sought-after user interface design studios. With a loyal client-base comprised of Fortune 100/500 companies, The Skins Factory has become the de-facto user interface provider to the giants of the technology and entertainment industries - Microsoft, Disney, Warner Bros., HP, Yahoo!, Intel and many others. Through a potent combination of conceptual innovation and pixel-perfect attention-to-detail, they continue to attract industry heavyweights and delight tens of millions of end-users worldwide.
The Skins Factory's services include: application user interface design, mobile application development, brand identity creation, icon development, promotional skin development and Windows desktop theme design.
For more information: http://www.TheSkinsFactory.com or call (954) 252-1786.
About Hachisoft Corporation
Since its initial imagining by three brothers in grade school, Hachisoft has become a leader in the creation and execution of quality desktop software, mobile, and digital design (CAD) application development.
Based in the wilds of Washington State, this "band of brothers" delivers a wide range of expert services that include: engineering, cyber security, business, and modeling software development.
For more information: http://www.hachisoft.com or call (509) 685-0760.
Media Contacts:
Jeff Schader
The Skins Factory
jschader(at)theskinsfactory(dot)com
(954) 252-1786
# # #