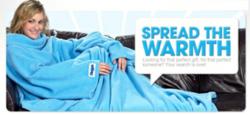 I bought the leopard print Ultimate Slanket from QVC when it was Today's Special Value last week. It's the nicest, cuddliest blanket I could ever use... I highly recommend this product to one and all!
Los Angeles, California (PRWEB) November 27, 2012
The Slanket, "The Original Blanket With Sleeves", partners with Sweepstakes Ninja to offers consumers a chance at winning slankets through a sweepstakes giveaway. The Slanket has been featured on the Today Show, Forbes Video Network, The Lateshow with David Letterman, Inside Edition, plus television sitcoms such as 30 Rock. Celebrities such as Samuel L. Jackson have also been seen with the Slanket. Slankets also come in a variety of designer patterns. Sweepstakes Ninja helps consumers engage with brands such as The Slanket through social media, video marketing, blogging, partner websites and forums, and more through their online sweepstakes giveaways.
In 1998, a college student came up with an idea and created a prototype for the Slanket, that would become a part of American culture. It is a gigantic fleece blanket with sleeves. The Slanket is designed to keep your entire body covered and cozy while you still retain the use of your hands. Simplistic and practical, its innovativeness opens up possibilities, but still can replace any normal blanket. One can come home and feeling the warmth of ones friends and family with The Slanket.
Sweepstakes Ninja offers consumers the chance to enter multiple sweepstakes through their innovative online sweepstakes draws (http://www.sweepstakesninja.com/sweepstakesdraw/draw/slanket-blanket-giveaway/). They are daily entry draws, that not only give consumers chances at winning amazing prizes, but also give companies daily branding exposure to consumers. Through the sweepstakes draws, contestants have a chance of winning one of The Slanket fleece blankets sponsored by The Slanket.
The sweepstakes promotion officially runs until December 1st, 2012. To increase their chances of winning, the entrant may share sweepstakes links with friends, family, and through social media. This is a win-win situation for both The Slanket and the entrant. Entrants increase their chances of winning award winning products, and more people learn about the The Slanket product line. There have already been 10,000+ individuals introduced to The Slanket product line through Sweepstakes Ninja.
For more information about how Sweepstakes Ninja promotional marketing services deliver profits for companies, visit http://www.sweepstakesninja.com/site/company_sweepstakes/.
About SweepstakesNinja.com
SweepstakesNinja.com is the leading provider of fun and interactive sweepstakes. The company matches consumers with companies, in a fun and interactive manner. Consumers have the chance of winning amazing prizes. Companies benefit from daily exposure to their brands, word of mouth advertising, customer loyalty, and long term increases in profit. Visit http://www.sweepstakesninja.com/ for more details.