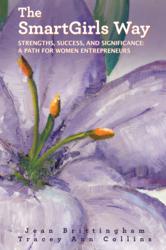 "A manifesto on women's entrepreneurship."
—Dr. Lynn Marie Gangone, Dean, The Women's College of the University of Denver
Seattle, WA (PRWEB) December 01, 2011
SmartGirls Way, LLC today announced the release of its first book for women entrepreneurs. "The SmartGirls Way," written by Founder Jean Brittingham and Co-Founder Tracey Ann Collins, is available online and in bookstores as of December 1, 2011.
Set against the backdrop of the economic and social impact that women-led businesses will have on the next economy, "The SmartGirls Way" distills four years of research and interviews with successful women entrepreneurs into a practical and hands-on tool that helps women frame and launch their Vision-inspired Big Ideas (ViBIs) into the world.
"This is an important book about women, entrepreneurship, leadership, business and sustainability...Just in time, because the world needs some changing."
—Glen Hiemstra, Founder of Futurist.com
"By honing in on the key attributes that women bring to entrepreneurship, the book outlines a pragmatic approach to success…A must read for all women."
—Sheila Hollender, Co-Founder, Seventh Generation
"This book provides women with the insights, tools and knowledge to launch businesses that are more inclusive, greener and socially responsible."
—Ingrid Vanderveldt, Dell's Entrepreneur in Residence & Founder, The GLASS Forum for Women
The book also includes access to the SmartGirls Way Mirror, an online diagnostic that tests six key characteristics that entrepreneurs bring to business—Integrity, Intuition, Creativity, Passion, Curiosity and Weaving. By understanding and celebrating how successful women leverage these strengths, new entrepreneurs can launch their businesses with more power and less strain.
Brittingham and Collins have worked internationally in both the corporate world and as owners of their own companies. They draw upon their 20 year careers in the fields of Sustainability and Executive Coaching to create a concise, pragmatic and radically honest approach to entrepreneurship and the future.
"While there have been many books written about the differences between men and women, there is little to be found that actually embraces these differences and helps women leverage them for life and business success," explains Brittingham. "Our goal in writing this book is to help women discover and embrace their strengths understand the power and fun of entrepreneurship, address the personal and cultural barriers that would keep them from their dream and create profitable, world-changing businesses."
The book is filled with useful exercises and real-world stories from twelve women who have harnessed their strengths and launched their dream: Elizabeth Bennett (Africa Direct), Michelle King Robson (EmpowHer), Ce Chin (80%20 Shoes), Janice Shade (TrueBody Products), Sarah McIlroy (FashionPlaytes), Amra Tareen (Allvoices.com), Gretchen Schauffler (Devine Color), Heidi Ganahl (Camp Bow Wow), Stephanie Allen (Dream Dinners), Jane Hoffer (Ohanarama), Sheryl O'Loughlin (Nest Collective), and Sharon Lechter (Pay Your Family First).
"The SmartGirls Way" is available on Amazon.com, Barnes & Noble and other online retailers in paperback for $14.99 and as an eBook for $10.99. Readers of the book can access the SmartGirls Mirror for free. A companion workbook is forthcoming.
About SmartGirls Way
SmartGirls Way is a social-venture dedicated to empowering women entrepreneurs to create significant economic breakthroughs for themselves, their communities, and the next economy. Founded by entrepreneur Jean Brittingham, the company helps women leverage their unique feminine strengths and access the critical knowledge, networks, people, and capital they need to build successful businesses. The company's mission is to unite the women's entrepreneurial movement by finding and celebrating existing and aspiring women-owned businesses, partnering with the organizations that support and invest in women, and bringing them together through focused initiatives and platforms. In addition to following the 100x100 Project, aspiring entrepreneurs can discover their inner entrepreneur by taking the SmartGirls Mirror strengths diagnostic and ordering The SmartGirls Way book at http://www.smartgirlsway.com.
# # #