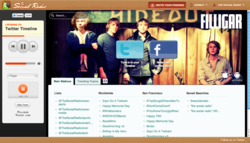 We've already proven the mobile success of The Social Radio especially for people who want to stay tuned to Twitter while running, driving, cycling, etc. With this launch, we look forward to attracting Twitter users who spend hours in front of a PC
Buenos Aires, Argentina (PRWEB) September 06, 2012
The Social Radio, an app that lets people listen to their Twitter Timeline mixed with their favorite music, is rocking into the social networking environment with the launch of its web app available this Thursday, September 6th. iPhone and Android apps will also be updated.
Allowing users to actually listen to Twitter searches, lists, hashtags, and trending topics mixed with music, The Social Radio- developed by three Argentine software engineers- has been downloaded over 25,000 times in a few weeks across both the iOS and Android platforms in over 20 countries. The new web app no longer requires an invitation and also boasts a renewed design that permits more attractive and simple in-app navigation. English, Spanish, Russian, German, Portuguese, Italian and French are all supported by the application.
The possibility of multitasking has been the key of The Social Radio's success by working on the phone's background so that users can use their device for other activities without leaving the app. Tweets are converted into male and female voices that vary intermittently thus providing a unique dynamism to the audio. Additionally, it lets users mix Twitter streams with their favorite music from online audio distribution platforms like SoundCloud, Pandora, Rdio, Spotify or from their own playlists.
"We've already proven the mobile success of The Social Radio especially for people who want to stay tuned to Twitter while running, driving, cycling, etc. With this launch, we look forward to attracting Twitter users who spend hours and hours in front of a PC- they also need to live the experience of tuning-in to The Social Radio!" says CEO Roberto Gluck.
Gluck adds: "We also provide features that offer a more enjoyable experience like the 'Independent Bands Promotion' project that we launched in June which gives independent bands the possibility of reaching the crowd. It helps them promote their music within The Social Radio Web App by modifying its background with the band's theme and links to their bio, discography and free downloads while, of course, playing their music."
Invitation to web-based app needed until Sept 6th: Invitation to access private beta.
Download links for mobile apps: iPhone and Android.
Our mobile apps have been featured on: BBC, Rolling Stone, The Guardian, The Next Web, El País, among others.
To learn more about The Social Radio, please visit http://www.thesocialradio.com and our blog http://blog.thesocialradio.com