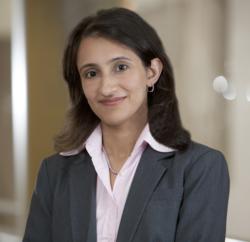 South Bend, Ind. (PRWEB) October 10, 2012
Shiroo Parshad, M.D., MPH, is joining Drs. Rudolph Navari and Dean Park in the Hematology/Oncology Department at The South Bend Clinic.
After receiving her medical degree from All India Institute of Medical Science in New Delhi, India, Dr. Parshad earned a master's degree in public health epidemiology and biostatistics from the University of Illinois in Chicago. She completed her internal medicine residency at Thomas Jefferson University, Albert Einstein Medical Center in Philadelphia, Pa. and her fellowship in hematology/oncology at Hofstra University, North Shore Long Island Jewish Health System in New Hyde Park, N.Y.
As a member of the team of multidisciplinary cancer experts, Dr. Parshad will see patients at Cancer Care Partners, 301 East Day Road, Mishawaka. To schedule an appointment, please call 574.204.7300.
About The South Bend Clinic
The South Bend Clinic is a comprehensive, multi-specialty physician group serving the Michiana region for over 90 years. With over 100 medical and surgical providers in over 22 different specialty and primary care disciplines, the Clinic is the largest medical group in northern Indiana and southwestern Michigan. The South Bend Clinic physicians practice in five regional offices and campuses. Clinic physicians have long been leaders in innovative care delivery, offering the community's most comprehensive scope of primary care to pediatric, adult and geriatric patients, complemented by an array of subspecialists in cancer, musculoskeletal care, cardiac and vascular care, and numerous surgical and medical subspecialties. To learn more about The South Bend Clinic, visit http://www.southbendclinic.com.
About Cancer Care Partners
Cancer Care Partners is the only cancer center in St. Joseph County to bring together an entire team of multidisciplinary cancer specialists who work collaboratively to develop the most effective treatment plan for each patient. Cancer Care Partners includes medical oncologists, radiation oncologists, surgeons and radiologists, as well as urologists, gastroenterologists, otolaryngologists, oncology nurses and other support staff. Through this fully integrated care process, the entire team monitors every step of the patient's progress throughout treatment, making necessary adjustments to maximize healing. It is this model of care, along with the breadth of multidisciplinary cancer specialists, that makes Cancer Care Partners unique to the Michiana area. To learn more about Cancer Care Partners, visit http://www.cancercarepartners.com.