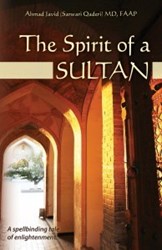 Cortland, NY (PRWEB) October 02, 2013
The Spirit of a Sultan is not a product of spiritual fantasy but based on the true life accounts of Sufi reverend, poet, and saint, Sultan Bahu. A historical biography reminiscent of Autobiography of a Yogi, the novel uses a slight fictional component to create a spiritual atmosphere throughout the story. The book does a great job of painting a picture of the early centuries in Asia. The author blends the events of the time with the tenets of Sufism to create a dramatic novel that is also spiritual and introspective. A spellbinding tale of enlightenment, this wonderful book follows Sultan Bahu's life history and spiritual journey while showing us all how to connect with God in our hearts and minds.
Written in an extraordinarily unique and intriguing style, The Spirit of a Sultan portrays the true account of a saint who shares a great many parallels with Guatama Buddha. Following a man who gave away his wealth, land, and legacy in order to pursue an austere existence in search of the truth while teaching others the realization of God and special meditation techniques, the novel inspires readers everywhere to re-examine their own lives and their relationships with God.
Teaching readers around the world the importance of self-realization through God and connecting to him through one's own heart through Sufi meditation, The Spirit of a Sultan highlights the life-changing teachings of a remarkable man. An uplifting and mystical experience, this fantastic book possesses the rare ability to change readers' lives for the better. Following Sultan Bahu's purpose in this world to ignite an ardent love for God in men's hearts, this story possesses a lasting appeal that will stay with readers long after they've closed the book.
'The Spirit of a Sultan' is available as a soft cover and E-Book on Amazon.com.
Born in Pakistan, author Ahmad Javid (Sarwari Qaderi) is a twelfth generation Sufi with ancestral lineage going back to Syed Muhammad al Hussaini Gisudiraz the saint of Decan, a descendant of Iman Hussain, the son of Ali Ibne Abi Talib, and eventually, to the fountainhead of all spirituality, the prophet Muhammad. He spent seventeen years in Iran extensively studying Sufi literature and poetry before coming to the United States in 1993 to finish his residency training in pediatrics from Columbia University. He is the author of Sufi Light: The Secret of Meditation, which is available on amazon.com.
To order your copy click on the link below:
http://www.amazon.com/Spirit-Sultan-Ahmad-Sarwari-Qaderi/dp/1484917944/ref=sr_1_1?ie=UTF8&qid=1380464031&sr=8-1&keywords=the+spirit+of+a+sultan
Watch you tube video on, 'The Spirit of a Sultan.'
http://www.youtube.com/watch?v=_8j2Xv_9zCQ&feature=em-upload_owner