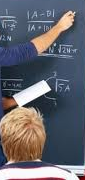 The tutors...were able to give tips and quick ways to navigate questions…I got my highest score (and finally passed) after their class.
Los Angeles, CA (PRWEB) December 27, 2012
The debate about how to improve achievement outcomes seems never-ending. There needs to be more qualified teachers. Check. There needs to be more rigorous curricula. Check. There needs to be an expansion of access to educational technology devices and platforms. Check. There needs to be customized assistance to help aspiring educators meet the requirements to become teachers in the first place. Triple check. Yeah, how many times are the foundations of teaching certification—among the most important being the Praxis exam—even mentioned? Not nearly enough. But, The Stimulus Effect has answered the call. The tutoring company will expand customized Praxis test-prep sessions for higher-educational institutions in January 2013 to ensure that aspiring educators have the tools to fulfill their dreams.
Some current teachers shared their experiences with The Stimulus Effect's customized test-prep services. "A couple of the exams were challenging, but the 'Principles of Learning and Teaching' Praxis exam was especially difficult," said Kate, now a third-grade teacher in New Orleans. "It requires applying a lot of the concepts you learned in more abstract and subtle ways. But, the tutors at The Stimulus Effect were able to give tips and quick ways to navigate questions…I got my highest score (and finally passed) after their class." "It seems really easy, but there are rules you take for granted," said Ryan, a 7th-grade teacher in Madison, WI. "Not only did the tutor go over test questions for the writing test, but he also reviewed some key grammar rules too. I felt more confident about the test, and may have even come out a better writer too."
The Stimulus Effect has its first test-prep sessions for 2013 on January 5 and January 12 in Loyola University in Baltimore, MD, and hopes to replicate these experiences for education students in colleges and universities around the country.
So, how does The Stimulus Effect prepare aspiring teachers for the Praxis? Here are some of the hallmarks of the sessions?

Comprehensive overview of critical thinkers and theories which inform curricular structures and instructional approaches
Guided "question deconstruction" that highlights key words from questions and "reveals" answers
Optimized balance of collaborative work and independent practice so students can share understandings as they build individual knowledge bases
Detailed analysis and feedback regarding performance on practice tests to guide performance
It seems that the approach is working; The Stimulus Effect's clients typically raise their scores between 7 and 15% just after one seminar.
"So much is expected from teachers, but the steps needed to become one are so often overlooked," said Arziki Phenyo, The Stimulus Effect's founder. "It is owed to those who will be preparing our future leaders to provide the best preparation for fulfilling this noble role. Especially in the wake of the Sandy Hook Elementary tragedy, the nation is reminded of how giving, devoted, and vital teachers are. For so many, they are the lights, the beacons, and quite literally—as so many saw on December 14, 2012—the saviors. The least The Stimulus Effect can do is offer them the guidance to successfully take the first steps toward assuming these honorable duties."
The company is also planning to expand customized test-prep for the GRE, GMAT, LSAT, and other critical standardized exams. So much is often said about what can be done when individuals fulfill their educational and professional dreams. The Stimulus Effect understands that many first need the guidance to even make those dreams possible.