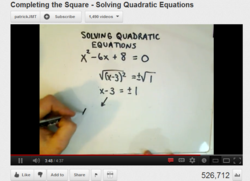 ...Online platforms are engaging tools that dynamically help students with special eeds maximize learning..."
Los Angeles, CA (PRWEB) September 30, 2012
The customized, and convenient, instruction that online tutoring provides has revolutionized education. Tailored programs enable students to go at their own pace and utilize a variety of multimedia tools to deepen their knowledge and subject understanding. But, aren't these technologies reserved for students who don't have specialized academic or cognitive needs? Far from it. The Stimulus Effect will expand its use of online platforms in October 2012 to ensure that students with special needs also have access to customized, student-centered, and globally oriented education.
There are a number of reasons why students with special needs or cognitive challenges may require particular supports for instruction. For instance, students with autism often have difficulty with sequencing activities or generalizability (applying key concepts from one context to another). Students with ADHD struggle with maintaining their focus, particularly when performing rote activities which lack "hands-on" dimensions. Students with auditory-processing disorder (APD) can find multi-step activities challenging, particularly those without concrete diagrams or similar supports. However, online platforms—such as Vyew, Scribblar, and Prezi—enable The Stimulus Effect's tutors to upload diagrams and mindmaps that help students easily progress through activities and identify links between concepts, integrate games and similar content that allow students to explore foundations, and import videos and similar guides that offer helpful references for multi-step tasks. On top of all these features, online platforms allow sessions to be conveniently saved, permitting students to easily reference lessons for review. Essentially, rather than being remote devices, online platforms are engaging tools that dynamically contribute to the learning space and help students with special needs maximize learning outcomes.
The Stimulus Effect has begun utilizing the platforms with some students with specialized learning needs, and the format has been successful. "Before, just thinking about taking her to school was a hassle…stories about her moving around the class nervously and barely getting through a problem were pretty common," says Matalyn, a mother of a 9-year-old with ADHD in Encino, CA. "But, within about 6 weeks of Scribblar sessions with The Stimulus Effect, Cassi has significantly improved her focus. She got a B on her last test." John, a Houston father with a 15-year-old son who suffers from APD had a similar experience. "Detailed problems were scary to him before. Just getting through a homework assignment could be a struggle... But with task-analysis structures that broke down complex assignments, and the video guides, the Prezi sessions with The Stimulus Effect tutor really helped. He and the tutor also talked through concepts as well, which I think actually helped his processing. Reading and understanding a passage isn't intimidating to him anymore." Here are some reasons why these platforms have worked well with these students:

Programs allow for multi-media integration, allowing concepts to be explored
and analyzed through different forms

Host of tools allow truly individualized instruction, focused on students'
needs and interests

Online tools are streamlined, running on common, fast-loading plug-ins
rather than standalone software

Students feel comfortable in the intimate, tailored learning spaces
giving students license to explore and be themselves
Apparently, the features of these communication tools truly enhance the learning space, granting students with special needs the opportunity to strengthen fundamental skills and build the foundation for higher-order thinking.
"At first, parents and educators may hear 'online tutoring' or 'online instruction' and think, 'this can't work for my student'," says Arziki Phenyo, the founder of The Stimulus Effect. "But, as we've seen through working with a number of students with special needs, these online frameworks are tailored for them. The multi-media content and tools allow them to apply their skills in more practical and complex ways, giving them opportunities to build their skills that are often not available in other contexts. Not only that, these students love being able 'to get their feet wet' and engage in the fun activities that their peers do. The results are heartening, and further expansions are planned." It seems that in working with online platforms, The Stimulus Effect has helped students redefine possibilities rather than be defined by their limitations.