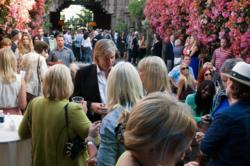 Hollywood, CA (PRWEB) June 09, 2013
The Swedish-American Chamber of Commerce of Los Angeles (SACC-LA), Swedish Games Industry, and Media Evolution are hosting the 2nd Annual "The Swedish Affair", a two-day event in true Hollywood fashion at the famous Rockstar Mansion to celebrate the love affair between Swedish creatives and Los Angeles. The event will take place on June 9 and 10, coinciding with the gaming conference E3, and will include short intensive panels, visionary keynotes, brilliant artists, and the most innovative companies within the creative space. Guests will also enjoy savory Scandinavian cuisine from world-class chefs, cocktails and incredible unplugged performances by up-and-coming musical talent.
The first day of events will kickoff with an incredible Swedish brunch and include several noteworthy panel discussions; special musical performances by world-renowned singer Yana Mangi performing traditional Sami melodies infused with rock and pop, the uber cool Rockabilly band Rosvo Rockers, indie pop band Act As If, which has been named 'New & Noteworthy' by iTunes Music and 'Fuseworthy' by Fuse TV, and the former front woman of The Concretes, DJ Victoria Bergsman (Taken by Trees). There will be a keynote speech by Swedish Film Industry's CEO, Anna Serner and a Q&A with Annika Gustafson, Managing Director BoostHbg on Valkyria, a pioneering program that aims to develop new storytelling techniques within the movie industry.
"Sweden has always been extraordinarily innovative and it's an honor to be able to share some of the country's top visionary talent with Los Angeles's entertainment elite," says Gudrun Giddings, Producer and President of the Swedish American Chamber of Commerce - Los Angeles.
The second day of events will include keynote speakers Ewa Björling, Swedish Minister for Trade and Nolan Bushnell, best known as the founder of Atari Corporation, he is currently devoting his talents to enhancing and improving the educational process on his project, Brainrush; several inspirational panel discussions; special musical performances by singer/songwriter Anni Kannika who is currently recording her debut EP "Blue" with Warren Huart and Phil Allen. A cocktail reception accented with delicious barbecue will be served during the evening as one-to-watch young vocalist Beldina performs and Victoria Bergman has a DJ set.
"This is creative Sweden at its best," says Sten Selander, Curator of The Swedish Affair and SVP at Media Evolution. "Made by creatives for creatives, this open, informal, unique event will help movers and shakers, executives and international decision makers to create long-lasting relationships and develop even more innovative projects," he added.
Additionally, The Swedish Affair will have numerous Swedish companies present at the event, including ACNE, Isabel Adrian, Volvo, Swedish Film Commission, Bitsquid, Zoink Studios, DICE, Avalanche Studios, Simplygon, Massive Entertainment and Great Works.
Per Strömbäck, heading the Swedish Games Industry, says, "We are thrilled to present the success story of Swedish games. From Minecraft to Battlefield and Candy Crush Saga, Swedish games have topped the charts all over the world. This event at the Rockstar Mansion is going to harness that great energy!"
For more information about The Swedish Affair, please visit http://www.theswedishaffair.com.
About the Swedish-American Chamber of Commerce of Los Angeles
The Swedish-American Chamber of Commerce of Los Angeles (SACC-LA) is one of 20 local chambers across the US. SACC-LA creates an effective network that enables innovative and creative exchange and enhance business opportunities between Swedish and American companies and individual talents in Los Angeles.
About the Swedish Games Industry
Swedish Games Industry is a partnership organization that represents the industry in the public. The organization consists of the trade organizations Spelplan-ASGD (developers and producers) and MDTS (publishers and distributors).
About Media Evolution
Media Evolution is a media cluster and member-based organization for innovation and growth within Sweden's media sector. With a focus on converging media, Media Evolution removes obstacles and creates conditions for growth by encouraging dialogue, providing inspiration, and highlighting new opportunities within the media sectors. Media Evolution has over 250 members and has built Media Evolution City, a meeting place and innovation environment that will support the cluster.
The Swedish Affair
http://theswedishaffair.com
Jeannine Jacobi
310.857.6994
Jeannine (at) FreshPR (dot) net
Michaela Nilsson
332.309.5037
Michaela.Saccla (at) gmail (dot) com
"The HOME Foundation is Proud to Support The Swedish Affair"
About The HOME Foundation:
The Helping Others Means Everything, or The HOME Foundation, is a not-for-profit organization dedicated to helping our Family of Charities. Frankie Verdugo, President of The HOME Foundation, wants to help as many worthy charities as possible as they struggle during these tough economic times. Frankie Verdugo helps raise funds through luxury dream home raffles, home giveaways, prizes, and high profile celebrity events in Hollywood... "Our mission is to help charities reach their fundraising goals and to bring awareness to their praiseworthy causes."