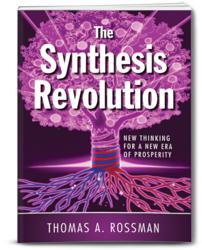 Shifting the focus of our political dynamic back to perpetual improvement
and ascent through innovation, productivity and inclusiveness.
New York, NY (PRWEB) December 20, 2012
Three decades ago, the Reagan administration and Democratic Congresses passed tax reform, entitlement reform, immigration reform, and balanced budget legislation. By changing the laws, but not the flawed way that Washington works, none of those well-intentioned acts has had a durable or lasting impact on our country. In fact, over the past twenty-five years, rather than coming together to solve difficult problems, America has become increasingly more polarized, further poisoning the well of public discourse and making productive reconciliation even more difficult.
In The Synthesis Revolution: New Thinking for a New Era of Prosperity, author and emerging global thought leader Thomas A. Rossman explains why our political dynamic has become so ineffective and, more importantly, how we can reverse the negative trajectory that we are currently on. The first step in this revolutionary process is to fully investigate and understand the forces that provided the foundation of our enormous success. By engaging in a debate about how we can perpetually improve our great nation and identify the most innovative, productive and inclusive pathway to additional ascent, we can embrace the same energetic forces that inspired and guided the Founding Fathers and other Revolutionary thinkers of the modern era.
Secondly, we need to fully understand and overcome the substantial barriers currently preventing us from achieving the type of productive reconciliation that has defined the major upward shifts in our country's progress and prosperity. In our present system, ideology, partisan division and special interests are holding our country back from realizing our potential, both as individuals and as a nation.
Thirdly, just as our forbears have done so many times in the past, we need to embrace new thinking and a new method of interaction outlined in The Synthesis Revolution to re-focus our political and economic energy towards creating new solutions and prosperity though pursuing perpetual improvement and ascent.
Presently, America has all of the knowledge and the will to create a New Era of Prosperity, but given our currently ineffective political dynamic, it will require that we, once again, engage in a Revolution.