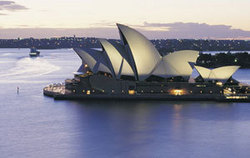 Enjoy the same breathtaking experiences that had Oprah shouting "I … Love … Australia!
Santa Fe, NM (PRWEB) February 25, 2011
Experiencing the same highlights as American talk show queen Oprah Winfrey on her recent trip to Australia, the 10-day Ultimate Australian Adventure is valued at $14,000 twin share.
The lucky winners will experience the cosmopolitan style of Sydney, the breathtaking expanse of the Red Centre, the vibe of the cultural capital Melbourne and the pristine beauty of the Great Barrier Reef.
Staying at luxurious resorts such as Uluru's Longitude 131, Sydney's Hotel Intercontinental, Melbourne's The Lyall Hotel and qualia on Hamilton Island, the trip combines the best Australia has to offer.
"There is no surprise why Oprah chose the destinations she visited," The Tailor's Managing Director Drew Kluska says
"This journey showcases Australia's great attractions and combined with private tours such as a behind the scenes look at Melbourne's Café Culture, a chance to see the morning sun rise over Uluru and an unforgettable Sydney city tour, this is the ultimate holiday adventure," Drew says.
"It's no wonder it prompted Oprah to shout: "I…Love…Australia."
To enter, participants just need to visit http://www.thetailor.com before 31 March, follow the links and explain in 25 words or less why they want to win Oprah's Ultimate Australian Adventure.
The Tailor has been offering tailored travel experiences for the high-end traveller for more than 13 years.
The company has been awarded as one of the 'Best Adventure Travel Companies on Earth', and 'Number ONE in Australia' by National Geographic Adventure magazine in 2009 while its travel designers were listed as part of Condé Nast USA's 'Dream List: 32 Trips of a Lifetime' in 2009.
Other awards include the 'Best Tourism Innovator' awarded by Australian Gourmet Traveller Magazine in 2008 and one of the 'The top 50 travel experts you need to know worldwide' by Condé Nast Traveller UK. The company has been featured in many other leading international publications such as Travel & Leisure USA, Elite Traveler USA and Vogue.
# # #