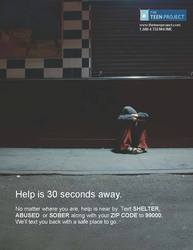 "My life has come full circle, with our online database and now the phone app, I can reach all of the nation's homeless youth -- where they live… on the internet and their cell phones."
Los Angeles CA (PRWEB) March 15, 2011
Lauri Burns, Founder of The Teen Project has partnered with Trumpia to raise the bar on reaching America's homeless youth. The newly released phone application allows youth all over the nation to text the word SHELTER with their ZIP code to the short code 99000 and receive a local shelter listing within 30 seconds.
The Teen Project national database of over 17,000 listings are now be available via a cell phone. Lauri and her team have also built applications for SOBER and ABUSED due to the diverse needs of our youth. While many youth are able to access cell phones, our research has shown that the most common problem, is not knowing "who to call."
Due to Burns' history, The Teen Project is expanding the ABUSED application to all battered women in the nation. Under the control of an abuser, with limited resources, this tool will empower women to get the help them need.
Lauri Burns grew up in the child dependency system after severe abuse. She spent her teen years on the streets addicted to heroin, as a known prostitute. Lauri went through treatment in 1987 after almost being killed by 2 gunmen on the streets. Seven years later, she became a foster mother. Lauri has fostered 28 of the most difficult teens over the past 18 years. Today she is an Information Technology Engineer and Program Manager at a Fortune 100 company.
In 2007, she founded The Teen Project for emancipated foster youth when she learned that 65% of youth leaving foster care at age 18 were instantly homeless. As stated in her book, Punished for Purpose, she knew her knowledge of technology would play a key role in reaching them, but until just recently she wasn't quite sure how. "My life has come full circle, with our online database and now the phone app, I can reach all of the nation's homeless youth -- where they live… on the internet and their cell phones."
About The Teen Project
The Teen Project is a 501(c)(3) whose mission is to pick up where the laws fall short. Due to funding constraints, foster care ends at 18 and children are left without a home or family support. 70% express a desire to go to college, but only 3% ever get a chance. Foster kids are 3% of the US population, yet 40% of our homeless population. The Teen Project http://www.theteenproject.com is a parent to the parentless. "Taken from their parents due to abuse, at age 18 our laws put them on the streets alone. I will not leave this life, knowing I left them there." (The Teen Project Founder- Lauri Burns)
For more information, photos or interviews
Media Contact: Cynthia Warden, Warden Entertainment Media
Office: 310-271-8409 Cell: 310-651-1840 Email:cwardenpr(at)msn(dot)com
###