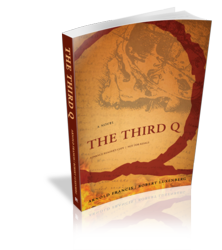 They are the truths that the rich and powerful have used to attain their wealth and power, and now they are here for everyone to study.
Seattle, WA (PRWEB) September 21, 2011
A book that has been over a decade in the making and has ignited interest from over 182,000 people is scheduled to hit bookshelves internationally on October 1st. The Third Q a novel by Robert Luxenberg and Arnold Francis, has already received raving reviews from book critics around the globe and has proven to be far more then an extraordinary read. "The Third Q is an excellent piece of work, a riveting story, full of suspense and drama while at the same time delivering very powerful insights about life, purpose, meaning of success and how to achieve it. This book will open up many peoples eyes and minds to be present by entering the Third Q." Rabbi Moshe Krasnanski, Spiritual Leader Chabad of the Town. This novel is providing it's already extraordinary following, access to the secrets that the rich and powerful have kept hidden for hundreds of years, the secrets that have allowed them to become who they are and to acquire the wealth and power that they have. Is this the answers we were all awaiting the popular movie and book "The Secret" to provide?
Last year there were over 288,355 books published in the United States alone. Many of these books will never see the inside of a book store. In fact many will never even see a printing press, let alone eyes to read them! Often in the business of book publishing, books come and books go with little or no notice from the mainstream public.
There are also those books that seem to come out of nowhere and grab the public's imagination and seem to take off to levels of success that the authors and publishers never could have dreamed of. This is the case for the latest book from Greenleaf Publishing, a small publisher who often gambles on relatively unknown authors who they feel have a niche that could make a significant difference to their readers.
The Third Q is first a well written novel, but hidden just below the surface is a much different book than most readers may at first grasp. This appears to be why it is taking hold and has such a massive following. The book is officially scheduled for release in early October, but the Third Q Authors have taken a risk by offering the first 10 chapters of the novel free for people to download from their site. This unorthodox strategy comes with some very big risks but the authors felt confident that if readers started to see what the book was about they would want to finish it. Many other authors have tried this strategy with mixed results as often this can backfire and simply show readers that they are really not that interested in the book after all! With The Third Q this gamble has paid off and paid off big.
"There has been a massive following that has started to grow. It is more than we could have expected from this kind of campaign," said Chris Riddell, the marketing director for the launch company. "We have seen a massive groundswell around the book and we have seen some very, very interesting things happening. Social media has taken off! We now have over 26,000 followers on the Facebook page and the pre-orders have been coming in at an unbelievable pace. It really looks like this book is well on its way to being a viral phenomenon!"
They have also created a short three-minute movie that was launched at the beginning of September and is making some serious tracks on YouTube, take a look here and see what it is that so many people are talking about.
The book is one of three offerings on their site. Another free offering is a rapid fire program designed to retrain your brain to think in terms of success and growth for a number of different aspects of your life including health, wealth, and relationships, just to name a few. Unlocking The Secrets is a companion book that takes some of the lessons taught in the novel, lessons on personal power and the use of a power they refer to as The Third Q, and puts them in a practical guide to implementing them in the reader's life. This power is the culmination of a lifetime of work from the authors Arnold Francis and Robert Luxenberg, both self-made mega-successes, and the ancient teachings of gurus and spiritual leaders. There is no question that, if used, these powers will make a significant difference in the reader's life.
"There has never been, in the history of the world, a more important time for these truths to be released to the public. These are not our lessons to teach. They are truly ancient laws that we have brought to light. They are the truths that the rich and powerful have used to attain their wealth and power, and now they are here for everyone to study. We are very excited to see the impact this will have on our troubled world. Change one person and you change a family, change one family and you change a community, change enough communities and you change the world. This is a very exciting time!" said co-author Robert Luxenberg.
First, this is a great book. But turn the page, and maybe, just maybe you will find a secret that will change your life forever. I know I did! The book is for sale on their website for 18.95 as well as on Amazon.com. If you purchase the book on the authors' site you will get the eBook version of the second book, completely free (a $19.95 value) for a limited time. Most times taking a gamble on a first-time author puts your hard earned money at risk. This time that is simply not the case. This will be the best money you have spent in years!
###