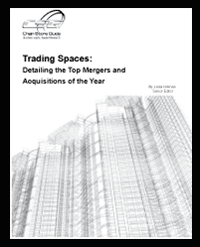 Tampa, FL (PRWEB) November 10, 2011
While producing its annual 2012 Directory of Leading Chain Tenants, Chain Store Guide (CSG) created its newest report: Trading Spaces: Detailing the Top Mergers and Acquisitions of the Year.
Chain Store Guide not only keeps track of who's doing what in the retail and foodservice marketplaces, it also keeps track of who owns the major players and who's buying and selling them.
Between September 2010 and September 2011, Chain Store Guide recorded 73 transactions that resulted in more than 26,000 stores and restaurants changing hands. That follows the 2009-2010 year of 67 deals involving more than 11,000 locations.
This report highlights details behind the five largest transactions that occurred this past year, including:

3G Capital Management Acquisition of Burger King Holdings
Roark Capital Group Acquisition of Arby's Restaurant Group
EchoStar Communications Corp. Acquisition of Blockbuster Inc.
FOCUS Brands (Roark Capital Group) Acquisition of Auntie Anne's Inc.
Leonard Green & Partners Acquisition of Jo-Ann Stores Inc.
All of this real estate changing hands offers a multitude of opportunities to developers, service providers, executive search firms, systems integrators, and other types of business:
Companies often close locations of their newly-acquired operations, leading to vacant retail space
Remodeling and/or rebranding locations to bring conformity to the organization is common
Infrastructure changes are usually required to ensure all parts of the organization can communicate and operate as a single unit
Technology sometimes must be updated and integrated
Vendors of the acquired companies may lose those accounts and will need to find new customers to compensate.
More information on these companies can be found in the 2012 Database of Leading Chain Tenants, which is used by real estate developers and by those involved in leasing retail space, construction, design, facility maintenance, and providing services such as HVAC, security, lighting, signage etc.
If you have questions or suggestions on how Chain Store Guide can better help you meet your objectives or overcome your challenges, please contact Carmen Vasquez-Perez, Director of Sales and Marketing, at 800.778.9794 or email her at webmaster(at)chainstoreguide(dot)com.
About Chain Store Guide
Chain Store Guide researches all major retailers, restaurants, distributors and wholesalers in the United States and Canada with contact information on more than 700,000 establishments.
Chain Store Guide provides data in print directory, online web application and customized database formats. Chain Store Guide databases are used by manufacturers, suppliers, service providers, brokers, real estate professionals, retailers, analysts, consultants and other professionals seeking to gain insight into retail and foodservice markets in the U.S. and Canada. Since 1934, Chain Store Guide has been the leading data source for in-depth information on retailers, restaurants, and foodservice operations.
For more information contact us at ChainStoreGuide.com.
###