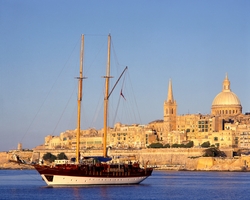 (PRWEB) March 18, 2011
Escorted Tour operator, The Travel Department has launched its new range of spring 2011 holidays from Ireland. Available now, The Travel Department are offering breaks to a range of destinations throughout Europe, North America and Asia including escorted tours of The South of France, Spain, Austria and Portugal.
The Travel Department offer a wide range of holidays from Ireland including Easter breaks, cruises and river cruises, rail and opera breaks. For fans of the great outdoors there is also a new range of lake, garden and walking holidays to choose from.
Holiday-makers on a break with The Travel Department benefit from the experience and knowledge of local tour guides with in-depth knowledge of local historical sites and culture. There is also the additional benefit of socialising in a group in the evenings with meals in local restaurants included.
The Travel Department's spring holidays from Ireland include new destinations such as:

Costa del Sol, Malaga City and Gibraltar
Lyon, The Alps and Cote D'Azur
Copenhagen and Baltics Cruise
Beirut, Palmyra and Damascus
Highlights of Ibiza
Stockholm, Helsinki and Tallinn
Lyon, Avignon and Cannes
Bordeaux and The Basque Country
Oporto, The Douro River and Santiago De Compostela
About The Travel Department
The Travel Department is a leading operator of escorted holidays worldwide. Their holidays offer a professionally planned itinerary, the expert knowledge of a local guide and the convenience of booking an "all-in" package.
Operating to over 40 countries around the world, The Travel Department offer a wide and varied range of holiday destinations and types. The company offer 150 destinations worldwide ranging from leading European locations including France, Italy and Spain, to long haul destinations in Asia, Africa, Australasia and The Americas.
The Travel Department's holiday types range from popular sightseeing and cultural holidays and weekend breaks through to special interest tours, cruise holidays and activity breaks.
Full details of all holidays are available on http://www.thetraveldepartment.ie or by calling 01 637 1600.
# # #