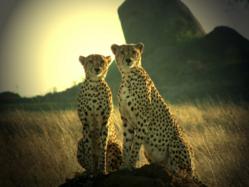 We believe that [image popularity] has a lot to do with the special emphasis we have placed on the honesty of the images.
New York, USA (PRWEB) January 03, 2012
A regal pair of posing cheetahs in Tanzania and a night shot of Durbar Square in Patan, Nepal, share honors this year as The Travel Word's best local travel pictures of the year 2011.
A bit more than two years ago, The Travel Word started featuring one picture each week as its Photo of the Week. Along with the visual, the photographer or owner of each selected image was asked to submit a short and revealing text about it – covering the subject of the photo, the general location, the experience of taking the picture and technical aspects of photography.
"These text-image combinations have proven to be very popular," commented Ethan Gelber, who founded and edits The Travel Word. "We believe that this has a lot to do with the special emphasis we have placed on the honesty of the images, all taken or sourced by trusted partners who are local travel experts in their destinations. Through their eyes, and given their knowledge of what makes their homes unique, we felt confident that were discovering something special."
The judging and review process involved creating a shortlist of images - at least one from each month plus a few wildcards - that had made a particular impression on The Travel Word editorial team. This shortlist was sent to a group of five skilled photographers for their assessment and comments.
Although very different, the two winning images, are of great merit.
The night shot of Durbar Square in Patan, Nepal, taken and written about by Navin M. Shrestha, focuses on a mass of pilgrims and devotees gathered before two temples on Krishna Janmashtami, the birth anniversary of Krishna. "This picture is amazing for the fact that at first glance it could reflect a scene dating back centuries. Truly a timeless shot," commented Matt Stabile, founder of TheExpeditioner.com and one of the five judges.
Gallery judge Rafael Pino, a Brazil-born professional photographer, felt that "Great light, composition and pose" characterized the picture of two posing cheetahs in the Selous Hame Reserve of Tanzania, taken by Ward Graham, written about by Shafina Bandali. The cheetahs "appear curious, ominous and regal all at once, added judge Mike Richards, editor of Vagandish.
The winner's board is rounded out by two runner-up images from Arequipa, Peru, and the Bocas Islands of Panama, as well as four judges' favorites from Kidepo Valley National Park, Uganda; Yakel Village of Tanna Island, Vanuatu: Cusco, Peru; and Lijiang, China.
This is the second annual selection of images, The Travel Word Photo of the Year 2010 having been the dazzling colors of a sunset in the Maldives.
Although the images for both 2010 and 2011 were pulled from a growing set of special pictures on Flickr, in 2012 The Travel Word will be reaching out to a larger pool of pictures and photographers.
###