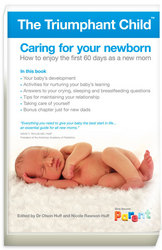 "Everything you need to give your baby the best start in life…an essential for all new moms." David T. Tayloe, Jr., MD, FAAP
Asheville, NC (PRWEB) April 8, 2010
Co-edited by leading pediatrician, Dr. Olson Huff and child development specialist, Nicole Rawson-Huff, Caring for your newborn: How to enjoy the first 60 days as a new mom, incorporates both expert guidance on pediatric health and practical parenting stories and tips.
Through knowledge and advice from well-known experts and stories and tips from other parents, this book offers real world practical advice for overcoming the fears and anxieties that many new parents face on a daily basis once their baby is born.
This book covers topics such as: bonding with your baby, helping your baby build a better brain, newborn sleeping patterns, soothing a crying baby, caring for the umbilical stump, help with choosing a pediatrician and more.
Unlike many other books on the market that entirely focus on moms and babies, this book includes a bonus chapter for new dads. This chapter answers many of the questions that dads often have about the new addition to their life and how it will affect them and their relationship.
Dr. Olson Huff is one of America's most respected pediatricians. He is a member of several national and state committees including Chairman of the Committee on Federal Government Affairs for the American Academy of Pediatrics and Commissioner of the NC Health and Wellness Trust Fund. He is the founder of the Olson Huff Center for Child Development at Mission Hospital, Asheville, NC. Dr. Huff is a long time advocate of children's health and wellbeing; his goal is to make sure children everywhere get the best start in life.
His daughter-in-law Nicole Rawson-Huff is an experienced early childhood development specialist who has spent her career empowering moms and dads to develop the skills they need to be the best parents they can be. As well as being a mom of two children, Nicole is a certified facilitator for 'Raising Kids with Special Needs', a certified 'Parents as Teachers' educator and an infant massage instructor. She was a founding manager of TotLine - a parent information phone line.
Their vision of helping parents together started in 1997 when they developed a set of radio messages called "The One Minute Parent." This popular program provided practical tips on raising children with information on child health and development. The launch of the Sixty Second Parent website in 2008 extended this vision. The Triumphant Child™ book series quickly followed due to high demand for both expert knowledge and practical advice on raising children.
Caring for your newborn: How to enjoy the first 60 days a new mom is the proud recipient of a Disney iParenting Media Award for 'Outstanding Product.'
Caring for your newborn: How to enjoy the first 60 days a new mom is available on The Triumphant Child website or through Amazon.
Caring for your newborn: How to enjoy the first 60 days as a new mom, Dr. Olson Huff and Nicole Rawson-Huff, Eds.; Soft cover; Nonfiction; $19.95 U.S. ISBN: 978-0-9822841-2-4
###