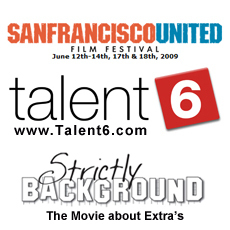 The subject matter of 'Strictly Background' is obviously a perfect match for Talent6 and becoming a sponsor along the festival circuit allows us to get more deeply involved with the independent filmmaker community
San Francisco, CA (PRWEB) June 15, 2009
Talent6, the leading online casting community for actors and extras, has added to its extensive roster of casting director relationships and will celebrate the expansion of their filmmaker division as an official sponsor of The United Film Festival now showing in San Francisco and the local premiere of the documentary, "Strictly Background," it was announced today. The San Francisco United Festival is part of The United Festival witch will be running in various cities across the country and in London. Visit http://www.theunitedfest.com for more details.
"Strictly Background" is a multi-award winning, heartfelt, compelling documentary from producer/director Jason Connell that explores the charm and determination behind some of Hollywood's hardest working actors, professional "extras." Following ten background actors, the film examines life on and off set as they attempt to make a living as a face in a crowd. The film makes its San Francisco premiere on Wednesday, June 17 at the first annual San Francisco United Film Festival during its Hollywood Night programming. Held at the Mission District's historic Roxie Theater, the screening begins at 7:00 p.m., followed by a filmmaker Q&A and casual reception.
"The subject matter of 'Strictly Background' is obviously a perfect match for Talent6 and becoming a sponsor along the festival circuit allows us to get more deeply involved with the independent filmmaker community," said John Williams, Director of Marketing and Development for Talent6. "We're thrilled to be working with Jason and other indie filmmakers to help them - and our members - realize their dreams." The relationship with The United Film Festival also provides a more public endorsement by independent filmmakers of Talent6's value to the industry. "Talent6 is one of the most passionate and dedicated companies you'll come across in this industry," said Connell, who is also the festival's founder.
For more information on "Strictly Background" and the United Film Festival program, please visit: http://sanfranciscounitedfest.bside.com/2009/films/strictlybackground_sanfranciscounitedfest2009
Providing direct, unprecedented access to thousands of high-quality casting calls daily, Talent6 has been helping aspiring actors, models, extras and "real people," find opportunities to appear in TV, film and advertising productions across the country. Already working with thousands of casting directors, Talent6 has recently embarked upon wider development of its filmmaker division, which enables independent directors and producers whose smaller budgets do not allow for a dedicated casting director find talent directly. Well-known festival award winning filmmakers including James Tucker ("Baby Fat" and "When Einstein Lived in Pasadena") and Tony DiDio, a 30-year veteran of independent cinema, are currently working with Talent6.
The Talent6 community provides a number of resources and tools for its members, including:

Direct access and unlimited submissions to approximately 80,000 casting directors, producers and filmmakers
Thousands of casting calls posted each week for a wide variety of jobs in show business
Advice from industry insiders and advisers, exclusive to Talent6
The ability to create online portfolios, blogs and video clip reels
The Talent6 online community with forums to share experiences and make new friends in the business
All Talent6 partner casting directors, filmmakers and photographers have been carefully screened so only high quality, legitimate opportunities are offered, and member privacy and security is ensured. For more information, please visit http://www.talent6.com or call 800.981.4521.
# # #