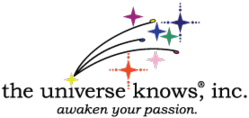 Each product has a three word pearl of wisdom, intended to motivate.
Plainview, NY (PRWEB) November 16, 2011
The universe knows is proud to announce the release of its long awaited under $25 gift guide for the 2011 holiday season. The universe knows, inc. is an apparel company dedicated to inspiring people. The sole purpose is to remind people of the strength within themselves. Each product has a three word pearl of wisdom, intended to motivate. The gift guide for the 2011 holiday season includes inspirational apparel and gift items for all.
Mugs –Every one of the universe knows mugs carries its own message - meant for introspection and to spread good vibes throughout ghe day.
Luggage tags – travel in style and be reminded of the wisdom within with these unique leather luggage tags. Each tag is super soft with its own special message and stands out with great vibrant colors. Cherish the journey literally and figuratively with the universe knows luggage tags.
Water bottles – these stainless steel bottles are sure to inspire and keep motivated motiviting and quenching thirst and soul.
Travel mugs – on the road much? – These exceptional inspirational travel mugs are a great way to remind anybody of the wisdom within and also help ease the stresses of daily commute. Embrace each moment with the universe knows travel mug and appreciate how wonderful it is just to be alive.
Journals – perfect for introspection – our distinctive and spiritual journals each carry a unique pearl of wisdom with the first page bearing a complete description of the pearl on the outside cover. Super soft leather and perfect compact sizing allow for ease of use especially on the go.
Bookmarks –special and classy, each bookmark contains embossed pearls of wisdom to remind you of the treasure within. Cozy on up to the fire with that special book and be reminded that happiness is always within..
Decals – these decals are perfect for your car window, laptop or even refrigerator as a gentle reminder of purpose and meaning in life. Be in gratitude.
Men's and Woman's tees – super soft feel. the universe knows, Inc.'s men and woman short and long sleeve shirts bear a simple message across the chest meant for introspection and a reminder to live life with purpose and passion. Create positive vibes as well as great conversation starters; people will be drawn to the magic within these shirts. Watch the energy and magic resonate and inspire all around.
Picture frames – mentioned in Woman's World Magazine - use these high quality leather frames as an inspirational piece on a desk or place a picture in them as a grateful reminder of experiences with those special people in life. These frames are truly uplifting and inspiring.
Infant rompers cherish the journey - One simple message on a newborn just entering this precious gift we call life. Cherish the journey serves as a reminder to hold each moment precious and to always remember to cherish the journey of life.
the universe knows, inc. is an apparel company dedicated to inspiring people. the company was founded on and is dedicated to a unique vision:
to remind people of the wisdom that resides within, and inspire strength and courage to live with passion and purpose.
###