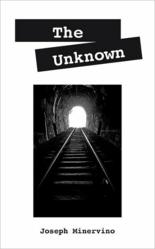 Nice Writing!
New York, NY (PRWEB) December 04, 2011
The Unknown, an autobiographical book, which reveals hidden truths and mysteries in today's world, can be purchased through http://theunknown-josephminervino.com.
Joseph Minervino, author of The Unknown, tells his story which takes place in a combination of New York City and Connecticut. His original intentions when writing this book, unable to "shake-off" his eerie past, was for self-healing purposes. Now it has the potential to aid many.
Joe sees the abuse within his home through his lunatic father and psychopathic mother, and how it eventually pushes his identical twin brother off the edge. He also sees the abuse in the outside world; within schools, companies, government, and religion. Disgusted and angry, he rises up against evil, finding himself in a position to make a difference.
Overall, The Unknown takes a closer look at abuse, its' counterparts, and even digs a little deeper regarding genocide and terrorism… Clearly, there's much room for improvement. For additional information, or to inquire, please visit http://theunknown-josephminervino.com.
The Unknown – after three years of tunneling – is an in-depth, intelligently written book, that most will find intriguing, educational, and surprisingly entertaining.
###