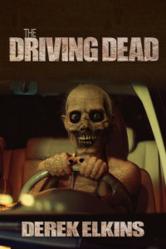 Holmen, Wisconsin (PRWEB) May 04, 2013
Bard and Book, the innovative publisher changing the way authors and readers connect, has released "The Driving Dead", the latest work of author Derek Elkins. The award winning Elkins poses the question: What's worse than an infestation of zombies? How about zombies who can drive.
New to the world of the living dead? Still hanging onto the shreds of humanity like stink on a corpse? Hey, maybe you should learn a trick or two on how to survive in your new skin. Maybe you should get an advantage over the rest of your competition. Shuffling around waiting for the living to fall in your hands is for the birds. The real up and coming zombies these days have an advantage because they've learned to embrace technology.
The Driving Dead is available for download on Smashwords.
About Derek:
Derek Elkins has authored several other books including "Bedlam's Door", "Three Conversations", "The Trouble With Bricks", and "Layover". You can read more about these books or find out how to purchase by visiting the Bard and Book online community.