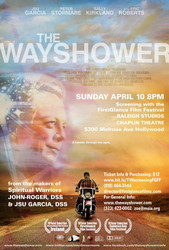 "The Wayshower combines a powerful message of hope and redemption with some expert filmaking and the result is an uplifting movie that is food for the soul." - Howard Fine, Acting Coach and author of Fine on Acting
Los Angeles, CA (PRWEB) March 22, 2011
The Wayshower will screen with the FirstGlance Film Festival April 10 and will be attended by co-directors http://msia.org/john-roger Rev. Dr. John-Roger (NY Times #1 bestselling author and spiritual teacher) and Rev. Dr. Jsu Garcia (Atlas Shrugged, Che, The Lost City, Along Came Polly). This independent spiritual film turned heads at the Sundance Film Festival and is now drawing attention for their selection in the FirstGlance Film Festival. Inspired by the real life events of Jsu Garcia and John-Roger, this story has been described as 'The Adjustment Bureau' meets 'Eat Pray Love' and centers around Jsu Garcia's change of fate from hollywood fame to serving and traveling with spiritual teacher John-Roger.
The Wayshower stars Eric Roberts (Dark Knight), Peter Stormare (Fargo), Jsu Garcia (Along Came Polly), Evan Hart (Law Abiding Citizen), Leigh Taylor-Young (Sunset Beach), with Academy Award Nominee Sally Kirkland (JFK) and introducing Howard Lazar and Denmark's TV celebrity and rockstar Nina Bergman.
Jsu Garcia's most recent role in Atlas Shrugged has also brought press attention to this film, with parallels drawn between the search for integrity, meaning and purpose. With many current hit films eluding to spiritual principles and ideals, this film does not hold back where others seemed to, but takes the audience on a metaphysical journey, exploring the realities of fate, karma and reincarnation. But don't worry this film is not preachy and does not espouse any form of religious doctrine. Unlike too many hollywood cookie cutter films where audiences are all too aware of exactly what they should think and feel at the end of the movie, The Wayshower presents audiences with this tangible experience and adventure, but leaves the audience with questions, and the opportunity to discover one's own meaning and interpretation.
The FirstGlances Film Festival, recently described by Times Magazine as "one of the best 10 film festivals for the rest of us" has given The Wayshower the closing night screening slot, and will screen at the Raleigh Studios Chaplin Theatre in Hollywood on Sunday April 10 at 8PM. Jsu Garcia will lead Q&A with other cast and crew following the screening.
A prolific writer of more than 55 books, including four NY Times bestsellers and one #1 NY Times bestseller, Dr. John-Roger will also release the book The Wayshower later this year through Mandeville Press, which will give further insight into the real life events that inspired the film. John-Roger will launch the book at the Sheraton Universal Hotel along with a Preview Screening of The Wayshower in June this year. John-Roger is currently touring with the book 'Living the Spiritual Principles of Health & Well-Being' which was released late last year, and co-authored with Dr. Paul Kaye.
Filmed primarily in the beautiful state of Utah, The Wayshower includes major scenes shot on location in Morocco, France, England, Peru and Spain, giving this independent film strikingly high production values for its SAG Ultra Low Budget. With sound design from Academy Award winner Dane Davis (The Matrix), The Wayshower pushes the envelope with its dramatic depiction of supernatural phenomena. Its cutting edge sound, based on the metaphysical and abstract nature of many of the movie's elements, complements the story's visual aspects, creating a unique and encompassing viewer experience.
The unique editing style paints an artistic, intelligent and thought-provoking canvas that fully involves the audience throughout the film. Just as The Limey and Memento created new levels of audience relationship with the story through the use of innovative and non-linear editing, The Wayshower similarly presents timeless themes in a brand new way. Steven Soderbergh's influence is evident throughout, as both inspiration and support for taking risks with experimental and non-traditional ideas of editing, story telling and filmmaking.
"This is the greatest movie I've ever seen." – David Wynne, reknowned British sculptor
"The Wayshower is a compelling, multi-layered and complex spiritual journey about a guilt-ridden man searching to understand his connection to his guru J-R. Followers of the real-life guru, John-Roger, as well as a segment of new-thought seekers, will resonate with the messages and life lessons shared throughout." - Arielle Ford, author of The Soulmate Secret
"We absolutely loved The Wayshower. It is a very realistic portrayal of a troubled person in search of peace, while at the same time, providing historical information pertaining to one of the most inspirational spiritual teachers alive today." - Drs. Ron and Mary Hulnick, Co-Directors, University of Santa Monica
THE WAYSHOWER | Closing Night Screening with the First Glance Film Festival
Directed by | John-Roger, DSS & Jsu Garcia, DSS
Starring | Jsu Garcia, Eric Roberts, Peter Stormare, Howard Lazar, Nina Bergman Leigh Taylor-Young & Sally Kirkland
Saturday April 10 | 8PM Screening | Q&A to with director & cast to follow
Raleigh Studios Chaplin Theatre | 5300 Melrose Ave Hollywood 90038
RSVP REQUIRED | Call Zoe Golightly 323-422-0002 or email zoe(at)msia(dot)org
Contact Zoe for free screening passes and more information about the FirstGlance Film Festival or contact us here
*John-Roger will attend health and schedule permitting
###