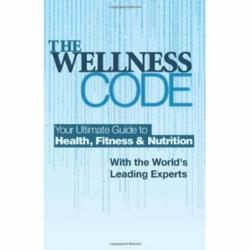 If you want a simple, effective and fun guide to improving your energy and overall wellness, this book delivers.
Rancho Santa Margarita, CA (PRWEB) April 11, 2012
Cracking the code to ultimate health and wellness, "The Wellness Code: Your Ultimate Guide to Health, Fitness and Nutrition" was compiled by a select group of the world's leading health and fitness experts, including John Spencer Ellis, a fitness and personal development guru and celebrity weight loss expert.
The brand-new wellness book, featuring tips, tools and secrets to better health, fitness and wellness, launches on April 12 and can be purchased on Amazon. The book was published by CelebrityPress, a leading fitness and health book publishing company.
"Whether you are stressed out about Tax Day, struggling to achieve your New Year's resolutions or simply seeking better information on health and wellness, this is the book for you," said Ellis, founder of John Spencer Ellis Enterprises, a personal development and fitness solutions company. "We are thrilled to provide proven wisdom, effective tips on living a healthier life and the latest wellness news in 'The Wellness Code' and to offer the book globally starting next week."
Key topics in "The Wellness Code" include diet and exercise, nutrition, physical and mental health, careers, healthy habits and more, offered by leading experts in each of these areas.
Other contributing authors include: Lisa Fox Bail, Raymond Barbarite, Kelli Calabrese, Mallory Cargile, Michael Coleman, Sabreena CopeLyn, Doug Duerr, Katrina Luise Everhart, Kevin Harvey, Ann Hodgskiss, Kristen and Sincere Hogan, Dorothy Jantzen, Gavin Kent, David Krainiak, Joseph Martin, Warren T. Martin, Linda McCarthy, Lisa Mercier, Briar Munro, La Varne Parris, Inger Pols, Justine SanFilippo, Diane Scarazzini, Camille Scielzi, Dexter Tenison, Helen Thamm, Gregg S. Viscuso and Simone Withers.
"The code to better health and wellness starts with getting informed and then creating a plan that you can put into action, which is exactly what we offer in this new book," Ellis added. "This is all about making health and wellness a reality in your life, so you can live longer and live better."
About John Spencer Ellis Enterprises and "The Wellness Code"
John Spencer Ellis Enterprises is a solutions provider for fitness and coaching professionals around the world, providing education, turn-key business programs, coaching and resources for new and advanced fitness and coaching professionals. For more information about John Spencer Ellis Enterprises or to purchase "The Wellness Code," please visit http://www.amazon.com/The-Wellness-Code-Ultimate-Nutrition/dp/0983947058/ref=sr_1_1?s=books&ie=UTF8&qid=1333375778&sr=1-1