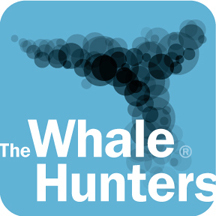 "Whale hunting is a powerful sales method proven over years of implementation, which involves the entire organization, and ultimately transforms the company's culture."
Tampa / Naples, FL (PRWEB) April 20, 2010
The Whale Hunters®, a strategic sales coaching company that helps entrepreneurs and small businesses land big accounts, has launched chapters in the southern Florida regions of Naples/Ft. Myers and Tampa. Four local entrepreneurs have been named to oversee and lead the chapters as certified partners of The Whale Hunters. In Naples/Ft. Myers, the partners are Chris Meyers and Cheryl Good, and in Tampa, Brian Zaas and Rosemary DiDio Brehm. These certified partners will host workshops and offer consulting services to teach the firm's proven methodology for growing sales exponentially by way of landing and serving large accounts. All four partners completed The Whale Hunters' rigorous educational Boot Camp to become certified in delivering the proven methodology.
"Whale hunting is a powerful sales method proven over years of implementation, which involves the entire organization, and ultimately transforms the company's culture," said Margie Traylor, CEO of The Whale Hunters. "We are excited to partner with these accomplished business leaders to bring this resource to the Southern Florida business community. Our partners are an instrumental part of sharing The Whale Hunters Process™ with businesses across the country."
Both regions will hold "Introduction to Whale Hunting" events the first week of May:
Naples/Ft. Myers area:
Wednesday, May 5th from 8:00 am to 9:00 am at the Ft. Myers Chamber of Commerce
Wednesday, May 5th from 4:30 pm to 5:30pm at The Capital Grille Naples
Tampa:
Thursday, May 6th from 8:30 am to 9:30am at The Capital Grille Tampa
Business leaders interested in attending any of the upcoming events can register online at http://www.thewhalehunters.com/register.
Chapters consist of up to 15 CEOs, founders and sales leaders from non-competing businesses in a metropolitan area who meet monthly to learn The Whale Hunters Process™, discuss business development strategy, and implement the process into their companies. The combination of executive education and peer-to-peer coaching provides the support, accountability and resources necessary to craft a powerful formula for success.
About The Whale Hunters Certified Partners:
Naples/Ft. Myers Certified Partners
Good has more than 20 years of experience in developing leadership-driven cultures and strategic plans that generate higher levels of performance, production and profit. As the highest-ranking woman in the global auto business at General Motors, Meyers moved on to found a national sales and marketing company. Since then, she has received many business honors, including being named one of the top 100 sellers in the U.S. by Ad Age magazine.
Tampa Certified Partners
Rosemary DiDio Brehm is an entrepreneur and expert in helping organizations accelerate their potential into profitable results. In addition to her consulting services, Brehm was the founding Chair of the Tampa Bay Women President's Organization and holds a Certificate in Training and Development from New York University as well as a Bachelor's and Master's degree from the State University of New York at Geneseo. Brian Zaas has over 22 years of experience in leading business development and sales efforts for technology, software and outsourcing solutions. He has been responsible for driving global business development and professional service efforts for leading Fortune 500 corporations, including Fujitsu, CA, and MCI-Worldcom as well as start-up growth for Pilgrim Software, Best Programs Telcordia.
About The Whale Hunters®
Established in 2004 and headquartered in Tempe, Arizona, The Whale Hunters is a strategic sales coaching company that helps small businesses achieve explosive growth by landing bigger deals with bigger customers. Partners train to become certified in delivering The Whale Hunters Process™, and regional chapters provide ongoing training as well as peer-to-peer coaching. The company offers sales growth strategies across a spectrum of products and services, from educational books, blogs and an online community, to regional chapters, workshops, speaking engagements and custom consulting. Founder and president Dr. Barbara Weaver Smith, co-author of Whale Hunting: How to Land Big Sales and Transform Your Company, is a nationally-known authority on business development and the RFP process. For more information, visit http://chapters.thewhalehunters.com
###