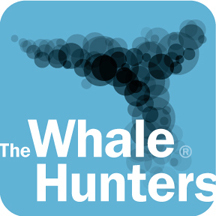 Whale hunting is a powerful sales method proven over years of implementation, which involves the entire organization, and ultimately transforms the company's culture
Indianapolis, IN (PRWEB) April 13, 2010
The Whale Hunters®, a strategic sales coaching company that helps entrepreneurs and small businesses land big accounts, has launched a chapter in the Indianapolis area, and named Hazel Walker to oversee the chapter. As a certified partner, Walker will host workshops and offer consulting services to teach the firm's proven methodology for growing sales exponentially by way of landing and serving large accounts. Walker completed the company's rigorous educational Boot Camp to become certified in delivering the proven methodology.
The first two Indianapolis area "Introduction to Whale Hunting" events will be Wednesday, April 28, from 8:30 to 9:30 am at Northwood University, and from noon to 1:00 pm at The Capital Grille in Indianapolis. Business leaders interested in attending either event can register online at http://www.thewhalehunters.com/register.
"Whale hunting is a powerful sales method proven over years of implementation, which involves the entire organization, and ultimately transforms the company's culture," said Margie Traylor, CEO of The Whale Hunters. "We are excited to partner with Hazel to bring this resource to the Indianapolis business community. Certified partners are an instrumental part of sharing The Whale Hunters Process™ with businesses across the country."
Chapters consist of up to 15 CEOs, founders and sales leaders from non-competing businesses in a metropolitan area who meet monthly to learn The Whale Hunters Process™, discuss business development strategy, and implement the process into their companies. The combination of executive education and peer-to-peer coaching provides the support, accountability and resources necessary to craft a powerful formula for success. As a certified partner, Walker is skilled in providing collaborative, team-based workshops for companies that want to grow their sales aggressively and transform their business development efforts. Workshops range from "Whale Hunting Fundamentals" and winning business through the RFP process, to strategizing for new business growth with current clients.
Hazel Walker has expansive business and networking acumen and most recently was the executive director of the Central Indiana Region of Business Network International (BNI). Hazel has served in such organizations as the Big Brothers Big Sisters, Business Women Connect, Rainmakers, and the Indiana Convention and Visitor Association.
About The Whale Hunters®
Established in 2004 and headquartered in Tempe, Arizona, The Whale Hunters is a strategic sales coaching company that helps small businesses achieve explosive growth by landing bigger deals with bigger customers. Partners train to become certified in delivering The Whale Hunters Process™, and regional chapters provide ongoing training as well as peer-to-peer coaching. The company offers sales growth strategies across a spectrum of products and services, from educational books, blogs and an online community, to regional chapters, workshops, speaking engagements and custom consulting. Founder and president Dr. Barbara Weaver Smith, co-author of Whale Hunting: How to Land Big Sales and Transform Your Company, is a nationally-known authority on business development and the RFP process. For more information visit http://chapters.thewhalehunters.com.
###