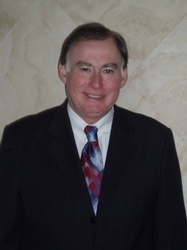 Irvine, CA (PRWEB) March 28, 2010
The Wolf Firm, an AV rated nationally recognized law firm serving the Financial Services Community, is pleased to announce the expansion of its Litigation Department and welcomes two new attorneys: Joseph J. Nardulli, as its Lead Trial Counsel, and Chanel L. Oldham as its new Associate Litigation Attorney.
Mr. Nardulli, who formerly was the litigation department chair of a 500 attorney law firm, has spent the majority of his 35 years litigating complex real estate matters throughout the state of California. He has substantial jury trial experience, is AV rated by Martindale-Hubbell and has been qualified as an expert in the area of real estate litigation. Mr. Nardulli also has vast experience in general business litigation including contract disputes, business fraud, shareholder disputes, breach of fiduciary duty, unfair competition and employment disputes.
Mr. Nardulli is a member of the State Bar of California (admitted 1974), is admitted to all of the Federal Districts Courts in the State of California and to the United States Supreme Court. He is a member of the Orange County Bar Association and is active in the bar association's Real Estate and Business Litigation sections. He earned his B.A. from the University of California Los Angeles (1970) and his J.D. from the University of San Diego (1973).
Mr. Nardulli is also an experienced mediator and arbitrator. He was certified as a mediator, by the Straus Institute for Dispute Resolution, Pepperdine University is a member of the Southern California Mediation Association and is a mediator for the Los Angeles Superior Court Alternative Dispute Resolution Panel. Mr. Nardulli also serves on the Orange County Superior Court Panel of Arbitrators and the National Arbitration Forum.
Chanel L. Oldham brings with her several years of experience in representing the Financial Services Industry in commercial lending, bankruptcy proceedings and foreclosure actions. Ms. Oldham earned her B.A. from University of California, Los Angeles in 2005 and her J.D. from the University of Southern California Gould School of Law in 2008. She is admitted to practice in California, and before the United States District Court for the Central District of California and the United States Court of Appeals for the Ninth Circuit. Ms. Oldham is the lead associate in the firm's Residential Receivership Program.
About The Wolf Firm:
The Wolf Firm, a California Law Corporation, is a nationally recognized, AV-rated, full-service law firm with offices in Irvine and Sacramento, California. For over 25 years, The Wolf Firm has provided legal services throughout California with an emphasis on the Financial Services Industry. For more information on The Wolf Firm, visit http://www.wolffirm.com or call (949)720-9200.
Contact Information of New Hires:
Joseph J. Nardulli
Phone: (949)720-9200 ext. 5110
Chanel L. Oldham
Phone: (949)720-9200 ext. 5140
###