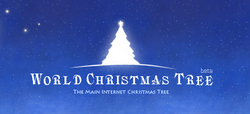 Millions of people all over the world believe that Christmas is surrounded by an extraordinary spirit. Giving people a chance to experience the global holiday spirit is the idea which determined everything in this project, from its concept to the design
(PRWEB) December 1, 2009
The World Christmas Tree project (http://www.TheWorldChristmasTree.com ) captures attention of a wide Internet audience by its sheer size, as well as a standard-defying format, shaped in the form of a pine tree. The project is a unique community, with a limited number of participants. Ten million users (out of 1.5 billion Internet users around the world) will light up the whole 5 miles of the most unusual Christmas tree with their avatars.
Only those who have booked a place in the community will become the select members of the project. In order to do this, one has to pick a 5 by 5 foot square on the desired height of the tree, or select multiple squares to grab a larger place - 10 by 10 feet. This personal place can be used to display huge photographs, logos, pictures and messages (for example, 30 by 50 feet). The more squares an image is displayed over, the more attractive and noticeable it is for other users of the tree. Project members can address their images to friends and family, top management of various companies and celebrities. Every member has a personal rating, which depends on the level of support demonstrated by other users of this entertaining project. On Christmas morning, 4,000 most popular and supported participants of the community, will be moved according to the rating to the very spire of the tree – a closed VIP-zone, located at between 4.9 and 5th mile.
The interface of this creative project literally takes into account every little thing. The World Christmas Tree presents a panoramic view that allows detailed overview of various project features. Any member can browse the whole 5 miles of the virtual tree, visit the pages of other participants, post comments to gifts, influence ratings of other users, send unusual virtual gifts and more.
"Millions of people all over the world believe that Christmas is surrounded by an extraordinary spirit. Giving people a chance to experience the global holiday spirit is the idea which determined everything in this project, from its concept to the design of a personal page," says David Drygin, the project's creator.
With the help of the World Christmas Tree anyone can send a special Christmas greeting to those who may be difficult to reach in real life, give a virtual gift to be found under the global Christmas tree, send a ready-made or create a custom Christmas card, address it to a friend or a popular politician, showbiz or sports celebrity. "You can set an "Open on" date so that your present becomes even more desired. You won't have to register to receive a present, just follow the link we provide," says David Drygin.
Members of this Christmas project can view gifts they are sending in detail, pick their size and gift box (1 to 7 feet depending on user's choice). This feature is unique on the Internet, since many companies and social networks who also offer virtual gifts do not give their users a chance to choose gift size or wrapping. Project users can send an awesome present – a place on the most unusual Christmas tree, giving your loved ones a chance to become one of the few select members of the community. Limited number of places and variety of features make this extraordinary project one of the most daring Christmas surprises for the Internet community.
Regardless of distances, social and language barriers, the World Christmas Tree gives an optimistic forecast - everyone gets a gift this Christmas!
Reference:
The World Christmas Tree is a global Christmas project shaped in the form of a 5-mile-high Christmas tree. Places on the Tree are limited to 10 million avatars of most popular and cheered members of the global Internet community. The rating system makes it possible for the most popular participants of the project to compete for places in the VIP-zone – 4,000 places reserved at the spire of the tree between 4.9 to 5th mile - to be opened on Christmas morning.
The project gives its users a chance to place huge images on the Tree, send special and unusual gifts, ready-made or custom Christmas cards to friends, family or any other person, regardless of distance, as well as grant a place among the select few in the Christmas community.
Contact:
David Drygin
Founder
+1-408-538-5344
###