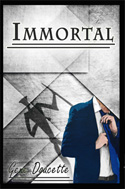 As the numbers continue to rise on Amazon, we look forward to seeing one of our original fiction titles on a Bestseller list.
Arlington, Texas (PRWEB) September 07, 2012
Can lightning strike twice for this independent Australian Publisher? It appears that it may. "Immortal" was released in March of 2012, and by August of 2012 it had reached more e-readers than any other title in The Writer's Coffee Shop history during the first five months of its release. This includes Fifty Shades of Grey that helped to propel this independent press into publishing history.
The Writer's Coffee Shop CEO, Amanda Hayward said, "We are so proud of the amount of readers we are getting for both 'Immortal' and the sequel, 'Hellenic Immortal' in a five-month time period and are excited about the future of the series. As the numbers continue to rise on Amazon, we look forward to seeing one of our original fiction titles on a Bestseller list."
Doucette's books are quickly becoming part of a fantasy genre movement that has fallen in love with the quirky, alcoholic, immortal Adam with his quick wit and sometimes-rude behavior. Reviewers say this fantasy is a fresh look at an old theme. There are thousands of books on vampires, werewolves, and numerous other cult personas, but there is, and will only ever be, one Adam.
In a character interview by Zee Monodee, Adam describes how someone's sense of humor is relative to their situation. After living over 60,000 years, he has his own opinions on a variety of topics.
"It's tough to analyze one's own sense of humor, as it's something that one doesn't typically work at, but I would say that broad, bawdy humor is very much a culturally specific thing. The Sumerians used to think it was hysterical to hang a guy by his own lower intestine, but you hardly see that sort of thing anymore. Likewise, I don't get the Three Stooges at all.
"It's also possible that sarcasm and high irony stem from an innate sense of superiority, which is something I share with the British."
It's no surprise how this fictional character has won over readers across the globe. Gene Doucette has created a cult classic that will literally "outlive them all."
Boston native Gene Doucette is compared by reviewers to the likes of Phillip K. Dick, Neil Gaiman, Douglas Adams and Chuck Palahnuik and is available for thought-provoking, entertaining interviews to discuss topics such as:

Adam the Immortal and the imagined positives and negatives of eternal youth.
The tacit avoidance of magic in a story that almost begs of it in favor of the maturity of realism and believability
The secret history of the world he's created, such as his vast knowledge and reinterpretation of some of history's most important events
His storied career as an oft-produced playwright, award-winning screenwriter, failed stand-up comic, AOL columnist, non-fiction author, and novelist
About the Author:
An award-winning screenwriter, novelist, playwright, humorist, essayist, father, husband, cyclist, dog owner—and a few other things, too—Doucette is, in simple terms, a writer. He began his life-long affair with the written word at Boston college with his one act play, Habeas Corpus. At the time, it was the first student-written play ever performed by the Boston College Dramatics Society.
Website: Gene Doucette can be found at The Writer's Coffee Shop Publishing House, and his website.
About the Publisher:
The Writer's Coffee Shop Publishing (TWCS) House is an up-and-coming independent publisher based in New South Wales, Australia. They recently gained a great deal of attention for publishing Fifty Shades of Grey, the international literary sensation released in June 2011, now represented by Random House.
Launched in October 2010 with the vision of working alongside talented authors while providing quality e-books to the growing marketplace, TWCS publishes a wide range of fiction titles and is sure to have something for any appetite.
Website: http://ph.thewriterscoffeeshop.com/