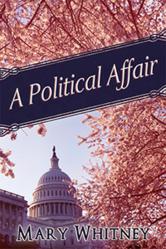 Whoever said politics was boring, never read Mary Whitney's "A Political Affair".
Arlington, TX (PRWEB) October 16, 2012
Our Nation loves a scandal, and there's nothing like the airing out of a politician's closet during an election year. Enter Senator Stephen McEvoy and intern Anne Norwood. What starts as a friendship between two like-minded people becomes mired in scandal as the nation's capitol learns of the relationship.
No one expected Stephen McEvoy to fill his father's U.S. Senate seat at such a young age, least of all him. The scion of a revered political dynasty, he's appointed to the Senate after his father's untimely death. Now he's in a tough election battle against an archconservative. When clever Anne Norwood interns in his office, he dismisses her as another pretty face—until her independent streak catches his attention. She soon finds him far more interesting than his Senator McEvoy persona. They're both too smart to fall for one another, yet they do. Their relationship becomes a political gamble in a tight election, and all the while his opposition lies in wait for him to make a mistake. As Stephen's past catches up with him, he and Anne must fight for their future. In the heat of an election, no one is above surveillance, rumors, and threats. Campaigns— like love—are either won or lost.
Ms. Whitney manages to weave love, intrigue, drama, and family into a romance that would heat up any election campaign. Readers are given a clear picture of what it means to be in the public eye and have your every move scrutinized and publicized.
"I love politics, and I relish a good scandal. In writing A Political Affair, I wondered what would happen if the affair was actually a well-intentioned one. What if the pair truly loved one another? How could they get around their situation and actually grow a relationship? And how would the public react once it was disclosed in the middle of an election? I hope I've drawn a story that plays that out, while poking fun at the political world. After all, making fun of politicians is always good time," says Whitney.
Whoever said politics was boring, never read Mary Whitney's "A Political Affair".
About the Author:
Even before she graduated from law school, Mary Whitney knew she wasn't cut out to be a lawyer. Drawn to politics, she's spent her career as an organizer, lobbyist, and nonprofit executive. Nothing piques her interest more than a good political scandal or romance, and when she stumbled upon her talent for writing, she put the two together. A born Midwesterner, naturalized Texan, and transient resident of Washington, D.C., Mary now lives in Northern California with her two daughters and real lawyer husband.
Website: Mary Whitney can be found on The Writer's Coffee Shop, as well as her website.
Available to purchase on October 18, 2012 from Amazon, B&N.com, iTunes, and ph.thewriterscoffeeshop.com
About the Publisher:
The Writer's Coffee Shop Publishing (TWCS) House is an up-and-coming independent publisher based in New South Wales, Australia. They recently gained a great deal of attention when they published Fifty Shades of Grey, the international literary sensation released in June, 2011 now represented by Random House.
Launched in October, 2010 with the vision of working alongside talented authors while providing quality e-books to the growing marketplace, TWCS publishes a wide range of fiction titles sure to have something for any literary appetite.
Website: http://ph.thewriterscoffeeshop.com/