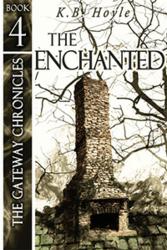 Ms. Hoyle, I love all the books and because of this series I started to actually read. Thank you.- Kid Who Reads - a 10 year old blogger.
Arlington, Texas (PRWEB) October 17, 2012
In this fourth book of The Gateway Chronicles, K.B. Hoyle, a classical educator from Alabama, takes us back to the magical world of Alitheia. Her characters are a year older, and the tone of the novel reflects in their maturity as a result of their previous adventures.
Hoyle's unexpected heroine, Darcy Pennington, has discovered that her course was plotted out long before she ever stepped foot in Alitheia. At first it seems Colin Mackaby is determined to hamper and confuse her on her mission, but soon Darcy suspects it's not Colin working against her, but a malevolent force working through him—a force seeking to hasten Darcy's transformation into one of the very creatures she's supposed to fight.
Darcy is finally willing to follow the prophesied path, even deciding to go ahead with her much-resisted marriage to Tellius. But soon after she returns to Alitheia, everything spirals out of her control. A painful rejection almost pushes her over the edge, and when she demands answers from Rubidius, he provides her only with more painful secrets she must keep from the others. In the meantime, Darcy and her friends set out to confront one of Tselloch's gateways in order to fulfill what they believe is the great prophecy of the Six. But when faced with practicing their magic against Tselloch's evil powers, nothing turns out as expected.
Enchantments protect them as sorcery attacks them, and they are dogged every step along the way. In the minds of the Alitheians, if Darcy cannot repair the breach that has formed between herself and Tellius, nothing will turn out as was foretold. Darcy wonders in the end if there's any hope at all for her, or for Alitheia.
In a world where children are inundated with pop culture icons and undesirableTV characters , K.B. Hoyle's "Gateway Chronicle" series gives our youth a look what a real hero looks like. As an educator herself, K.B. has seen firsthand the need for positive role models this generation can relate to. Some of the themes explored in this series:

Empowerment. A strong message of taking charge of your life that will inspire the young women and men of today
Good versus evil. A moral framework that teaches the importance of doing the right thing, even in the face of great adversity
The power of friendship. Young people banding together to succeed.
Destiny, fate and prophecy. We all have a choice, no matter how pre-determined things may seem.
About the Author:
K. B. Hoyle has been a classical educator for several years. She is a wife to a wonderful husband and mother to three wonderful little boys. At a young age, she knew she wanted to write stories that would inspire people. Her favorite genre had always been Young Adult Fantasy and Science Fiction, so that is where her journey began. K. B. wrote her first fantasy novel at the age of eleven, which proved to be great practice for the novels she would publish as an adult.
K. B. is currently writing the Young Adult Fantasy series The Gateway Chronicles, but she never stops brainstorming all the stories she plans to write in the future.
"The Enchanted" will be available for purchase in both paperback and e-book formats on October 18, 2012. It will be available on Amazon, B&N, iBooks, and on The Writer's Coffee Shop's website.
Book Information:
ISBN: 978-1-61213-125-2
paperback: $13.50
ebook: $9.99
"The Enchanted" will be available to order on October 18, 2012 on Amazon, B&N.com, iTunes, and The Writer's Coffee Shop website.
About the Publisher:
The Writer's Coffee Shop Publishing (TWCS) House is an up-and-coming independent publisher based in New South Wales, Australia. They recently gained a great deal of attention when they published Fifty Shades of Grey, the international literary sensation released in June, 2011 now represented by Random House.
Launched in October, 2010 with the vision of working alongside talented authors while providing quality e-books to the growing marketplace, TWCS publishes a wide range of fiction titles sure to have something for any literary appetite.
Website: http://ph.thewriterscoffeeshop.com/