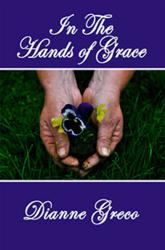 This is a series that my mom fell in love with.
Arlington, TX (PRWEB) September 20, 2012
The Writer's Coffee Shop is offering the first book of Greco's series, "In the Hands of Grace" for $.99 on Amazon and on The Writer's Coffee Shop website. When asked about the romance series, Jenny Pedroza, director of Marketing said, "Greco has a sweet, loving story to tell and we want to get the word out about it. This is a series that my mom fell in love with."
The series revolves around Susan Appleton, a woman that has been dealt a tough hand in life. After her husband's unexpected death and being laid off from her job, Susan is forced to re-evaluate her life. The challenges of new financial hardships and issues with her teenage son have left her spent. With Susan's head reeling as to what she should do next, she is introduced to her neighbor Grace. Grace has a way of making Susan feel at ease with all the changes that surround her. It's almost as if Grace knows what Susan's future holds.
As Susan starts to pick up the pieces of her life, she meets Tom, the local handyman. She is instantly drawn to him and a sweet courtship begins. With Grace and Tom by her side, Susan realizes how blessed she is in the face of adversity and learns to appreciate all the amazing "coincidences" she is experiencing in the hands of Grace.
Greco weaves a wonderful tale that leaves readers understanding that when life gets tough, the tough need good friends. For only $0.99, take a chance on a book that will show you love and friendship "In the Hands of Grace".
About the Author:
Dianne Greco lives in beautiful Port Jefferson on Long Island, NY with her husband, son, dog and two cats. When she isn't working in her gardens, she works at the lovely Emma S. Clark Memorial Library which gives her countless good reads and the inspiration to write.
Website: Diane Greco can be found on The Writer's Coffee Shop and her website.
About the Publisher:
The Writer's Coffee Shop Publishing (TWCS) House is an up-and-coming independent publisher based in New South Wales, Australia. They recently gained a great deal of attention with Fifty Shades of Grey, the international literary sensation they released in June 2011 and is now represented by Random House.
Launched in October 2010 with the vision of working alongside talented authors while providing quality e-books to the growing marketplace, TWCS publishes a wide rage of fiction titles and is sure to have something for any appetite.
Website: http://ph.thewriterscoffeeshop.com/