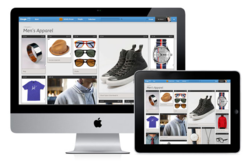 Thingle is about Things - the new social curation platform.
(PRWEB) November 21, 2012
Imagine: Pinterest meets Wikipedia with an user experience focusing on real world objects i.e. things you can touch, visit, taste, experience, travel to, buy or rent.
Thingle.com let's people organize and share the things they are passionate about - as pictures, music or video clips. Collections can be created for any topic imaginable such as architecture, fashion, events, food, travel, sports, music and many more.
Thingle offers a stunning visual and user friendly environment which makes sharing and commenting passions online a new experience.
Businesses can run new kinds of digital marketing campaigns on and with Thingle in their corporate Look & Feel. Thingle markets to their customers without pushing and in a non-intrusive style - without spreading loss and a high level of acceptance.
Thingle is passionate about creating the most exciting and useful social platform on the web. The beta version of the site is constantly improving and tons of useful features are in the pipeline.
http://www.thingle.com. Be passionate.