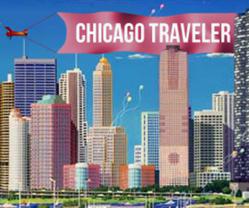 Chicago, IL (PRWEB) April 27, 2013
It's a good thing that April showers bring May flowers. After all the rain Chicago got this April, it's about time for sunny days and beautiful blooms. May in Chicago is a wonderful time every year, as the beaches and parks start to reopen and more travelers start filling the town getting in their early summer vacations. The many holidays and special occasions to plan a trip to Chicago this month include Cinco de Mayo celebrations, Mother's Day, Memorial Day weekend and other fantastic special events. ChicagoTraveler.com has put together a guide that includes all the best openings, concerts, sports and things to do in Chicago May 2013.
Mother's Day in Chicago
Celebrate Mother's Day in Chicago this year with something extra special. Sightseeing cruises in Chicago are a great way to show mom how much she means. Enjoy a fabulous meal on a fancy yacht, enjoying the beautiful skyline with mimosa in hand! For a special celebration on land, choose between tours that focus on the architecture, the food, the music and more. Tour Chicago on foot or bike, or make this a very special occasion with a special limo tour or helicopter tour of Chicago. Check out all the Chicago tours to find the one that your mother will love. Spend the rest of Mother's Day in the museums, seeing a show, shopping on Magnificent Mile or enjoying a gourmet meal in one of Chicago's finest restaurants. Check out all the Chicago transportation deals to book a limo or car to pick mom up, take her out and make this Mother's Day one that will never be forgotten.
Memorial Day in Chicago
Memorial Day Weekend is considered by many to be the beginning of summer, and there's no better place to spend it than Chicago! All of the Chicago beaches will be open for the 2013 season starting May 27, so pack that bikini, put some floaties on the kids, and spend the weekend getting a head start on your summer tan.
The Chicago Memorial Day Parade (May 27) is one of the oldest and largest Memorial Day parades in the United States, honoring fallen soldiers. This same weekend, there will be a Wreath Laying and Monument Rededication at the Logan Memorial in Grant Park starting at 11am, providing a tribute to the men and women who fought in Iraq and Afghanistan.
Chicago Events May 2013
Crown Fountain is scheduled to turn on in Millennium Park on May 1, 2013 (weather permitting). This attraction is a huge hit with kids who often end up soaking wet after a visit, which will be very refreshing this summer. On May 5, 2013, many Chicagoans will hit the bars to celebrate Cinco de Mayo in Chicago. All weekend long (May 3-5) bars and restaurants will be running specials on tequila and Mexican dishes, but this is the weekend to get out and enjoy a meal at a Mexican restaurant in Chicago.
On May 18-19, 2013 the Chicago Green Festival May will unite the community to discuss the most prominent environmental and social issues with hopes of creating solutions for a more sustainable future. On May 26th, bike up and down Lake Shore Drive on the Bike the Drive Chicago bike ride, a beautiful 20 mile route along the waters. Sign up by May 5th to avoid the late fee. If this ride sounds a little too challenging, check out one of the Chicago bike tours for a fantastic afternoon enjoying some of the best sightseeing in Chicago and learning all about the city from an entertaining, expert tour guide.
Concerts in Chicago May 2013
There are tons of great concerts in Chicago this month, find the full list of concerts in Chicago and tickets to all the shows! Here are a few of the biggest names coming to Chicago in May. Joe Bonamassa will kick the month off with a concert at Chicago Theatre, and that same night, Big Boi will be at the Vic Theatre. On May 3rd, see Calvin Harris at Aragon Ballroom. On May 7th, Patti Smith will be performing at the Vic Theatre and then on May 9th, see Tracey Morgan - Excuse my French at the House of Blues. On May 10th, the Country Megaticket at the First Midwest Bank Amphitheatre includes performances by Tim McGraw, Rascal Flatts, Brad Paisley, Luke Bryan, Blake Shelton and Miranda Lambert. Celebrate mom a day early on May 11th at the Arie Crown Theater Mother's Day 70s Soul Jam. On May 16th, Fall Out Boy will be at the Riviera Theatre. On May 19th, see The Sins at Aragon Ballroom or Relient K and Hellogoodbye at the House of Blues. EDC Chicago - Electric Daisy Carnival run from May 24th - May 26th at Chicagoland Speedway. End the month on May 31st with Montgomery Gentry at Congress Theatre and the Rolling Stones, performing at United Center.
May is the perfect time of year to head to a baseball game in Chicago, take a tour of the city before the city gets crowded, see a concert or celebrate any of the special events and holidays in Chicago. Start planning a trip now, and check out all the current Chicago deals to help plan an affordable and fun vacation.
About ChicagoTraveler.com:
Chicago is one of the top vacation destinations in America famous for their annual events, popular foods, architecture and top sports teams. ChicagoTraveler.com guides travelers to all the best things to do, top places to eat and deals on the best places to stay in Chicago. Lizz Riggs, editor of ChicagoTraveler.com, can help travelers find all the best things to do, places to stay and deals to take advantage of on their next trip.