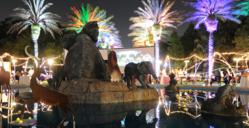 We can't wait to have some of our loyal supporters and patrons enjoy this special night at the Zoo. It is going to be a memorable one.
New Orleans, LA (PRWEB) April 30, 2013
On the evening of Friday, May 3, 2013, Audubon Zoo and its president and CEO Ron Forman will host the organization's premiere fundraising event, Whitney Zoo-To-Do. The annual Zoo-To-Do black-tie affair will entertain about 3,000 people and is expected to raise more than 1 million dollars for Audubon Zoo. This year's event highlights the renewal of the Discovery Walk, Audubon Zoo's animal encounter area. Zoo-To-Do tickets will not be sold at the door and should be purchased online before the event.
The Zoo-To-Do event has been a New Orleans tradition since 1972. Beginning as a small grassroots fundraiser and social event, community support continued to grow for the event and the Zoo over the years. Now, the event raises money each year for the restoration of animal habitats and educational exhibits. Voted "Best Local Charity Event" by readers of Gambit Weekly in New Orleans, the event has become one of the most popular things to do in New Orleans.
Audubon Zoo will be colorfully decorated for the festive evening. Patrons will be able to enjoy signature cocktails and cuisine from more than 70 renowned New Orleans restaurants. A silent auction will offer guests the opportunity to bid on jewelry, exotic vacations, sports memorabilia, and other exceptional items. Audubon Zoo even sells Zoo-To-Do partygoers a limited number of raffle tickets for a chance to win a luxury vehicle, a 2013 Lexus ES300h. Phat Hat, Jaywalker Brass Brand and Ingrid Lucia will provide live entertainment, and headliner Björn Again will be performing the greatest hits of ABBA.
"We are gearing up for our favorite time of year here at Audubon," explains Ron Forman, Audubon Zoo president and CEO. "We expect the event to be a great success, bigger and better than ever. We can't wait to have some of our loyal supporters and patrons enjoy this special night at the Zoo. It is going to be a memorable one."
Audubon Zoo can trace its history back to 1916, when an aviary became the first zoological exhibit to be housed in the Uptown park area. The Zoo is home to a mix of rare and exotic species from around the globe, including sea lions, elephants, endangered whooping cranes, Amur leopards, white tiger, and a white alligator. Some special animal habitats that can be visited are the World of Primates, Jaguar Jungle, the Louisiana Swamp, the African Savanna, Asian Domain, and more. The facility also offers the chance to take part in educational programs and hands-on animal encounters.
Besides the highly anticipated Zoo-To-Do event, private parties of all sorts can be hosted at Audubon Zoo. You can plan to use the site as staging grounds for family picnics, dinners and cocktail receptions, meetings and corporate events, birthday parties, and even New Orleans weddings. For more information about Audubon Zoo and events like Zoo-To-Do, visit http://www.auduboninstitute.org or contact the Zoo at (504) 861-2537 or Audubon Zoo, 6500 Magazine St., New Orleans, LA 70118.
AUDUBON NATURE INSTITUTE Audubon Zoo is located at 6500 Magazine Street in New Orleans. Whitney Zoo-To-Do 2013 tickets start at $110 and can be purchased online. Read more information about the event including how to purchase tickets at http://www.auduboninstitute.org/ztd or contact the Zoo-To-Do office at (504) 861-6160.