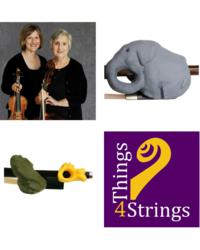 Things 4 StringsTM accessories deliver a relaxed and effective bow hold in an instant.
West Orange, NJ (PRWEB) January 04, 2012
Things 4 Strings LLC, founded by the mother-daughter team of Martha and Ruth Brons, proudly announces the United States Patent Office award of three patents for its line of accessories that are revolutionizing the learning experience for beginning violinists, violists and cellists of all ages.
Design Patents D650,828, D650,829, and D650,830 were issued on 12/20/2011, with additional United States and international patents pending.
The Bronses applied over 80 years of combined teaching and performing experience in creating playful animal-themed designs to their very serious work of string pedagogy. As described in a recent article featured in Strad Magazine, "Things 4 StringsTM range of bow hold trainers use animals – frogs and fish for violins, and the superbly named CelloPhant® accessory for the cello – to help train hand muscles and encourage a correct grip." The two-piece Bow Hold BuddiesTM set for violin and viola comprises a frog and a fish that can be positioned on the bow according the the size of the player's hand. The frog helps with the alignment of the index and middle fingers, and the fish offers support to the ring and pinky fingers. The CelloPhant® accessory encourages a correctly rounded hand shape, with the thumb nestling in the elephant's trunk.
Things 4 StringsTM accessories deliver a relaxed and effective bow hold in an instant. String teachers readily agree that no skill is more fundamental, nor has been more challenging to teach, than the bow hold. With Things 4 StringsTM accessories a teacher can go beyond the mechanics of the bow hold, and begin teaching music right from the very first lesson, making teaching and learning violin, viola, and cello less work and more fun.
The universal-fit Things 4 StringsTM accessories, appropriate for use by students aged 3-93, are valuable teaching tools for school orchestra classes, private studios, Suzuki programs and self-learners. Launched just over two years ago, these accessories are already helping music students in over 45 countries and each of our 50 United States.
Things 4 StringsTM accessories have been featured at over 20 music education conferences, where students and teachers have had the opportunity to try Bow Hold BuddiesTM and the CelloPhant® for themselves. The universal response to these innovative products has been enthusiastic, and teachers are excited to apply this new technology to their own lessons. Not only have Things 4 StringsTM accessories passed the stringent requirements of the US Patent Office but, more importantly, they have met with overwhelming approval of string teachers worldwide. Positive feedback from students, parents, school orchestra teachers, violin lesson and cello lesson studio teachers has been flowing into the company website, http://www.things4strings.com/.
Things 4 StringsTM accessories are available in a variety of colors, ranging from Concert Black to Sparkly Pink. They are manufactured in the USA and marketed through http://www.Things4Strings.com, Amazon.com and a growing network of dealers.
Distinguished performer and teacher, Martha Brons, maintains a busy cello studio in Greenville, SC, where she also founded the South Carolina Suzuki Institute at Furman University. Martha was named South Carolina Teacher of the Year 2008 by the American String Teacher Association, and has had students win the South Carolina All State Concerto Competition. She holds a Master's Degree in Cello Performance from the Philadelphia Music Academy, where she studied with the legendary Elsa Hilger.
Ruth Brons maintains a full studio as the Suzuki Violin Program Coordinator and Visiting Specialist for Montclair State University in New Jersey. Ruth has also served as a clinician for the past twenty years at the South Carolina Suzuki Institute at Furman University, and is an active performer and chamber music coach in the New York City area. She holds a Master of Music Degree in Viola Performance from Temple University and is an alumna of Charles Castleman's Quartet Program. She studied with Max Aronoff, Leonard Mogill, Heidi Castleman, Evelyn Jacobs Luis, and Davyd Booth. Ruth is also a mother of two string players (one of whom is following in the family's string teaching footsteps!).
# # #