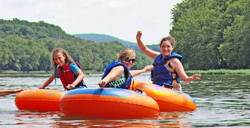 A leisurely float trip along the Shenandoah River near Harpers Ferry, WV is perfect: natural beauty, relaxation, and adventure all in one.
Knoxville, MD (PRWEB) July 29, 2009
"The DC Day Tripper Adventure Package is an easy, active summer outing only one hour from Washington DC or Baltimore. The Shenandoah River is an ideal tubing river for all ages. Add in scenic biking on the famous C&O Canal or flatwater kayaking or canoeing fun and you truly have a perfect day trip for families and friends." says Lee Baihly, CEO and Co-founder of River and Trail Outfitter.
Day-Tripper Packages cost less than $50 per person (a $10 savings per person) and are available through September at River & Trail. Only an hour from the DC and Baltimore metro area, residents and visitors don't have to hassle with lugging any gear or equipment, or even picnic items. Tube rentals, and either comfortable cruiser bike rentals or a selection of canoe and kayak rentals are part of DC Day Tripper Packages. River & Trails' funky Blue Heron Grill right on the Shenandoah River is the "park and play" location for paddling and tubing, making it especially convenient for families.
"Our new DC Day Tripper Package fills an important need for families and metro area residents. It makes it so easy and affordable to get out of the city for a day trip adventure before the pressure of school and work kicks back in for the fall." says Natasha Baihly, President at River & Trail.
River tubing is easy and affordable summer fun. According to Southern Living Magazine: "A leisurely float trip along the Shenandoah River near Harpers Ferry, WV is perfect: natural beauty, relaxation, and adventure all in one." The DC Day Tripper packages can be half or full day adventures. Shenandoah river tubing takes 1-2 hours , biking on the C&O Canal can take from one to four hours, depending on how far you want to ride. Park and play flatwater canoeing or kayaking on the river takes 1-3 hours.
About River and Trail Outfitters
River & Trail is one of the oldest licensed outfitters in the Maryland-West Virginia- Virginia tri-state region near Washington DC. Founded by Lee and Eunsook Baihly in 1972, this family-owned company specializes in affordable, day trip paddlesports recreation, including whitewater rafting, tubing, kayaking, canoeing, and paddling instruction near Harpers Ferry, WV on the Potomac and Shenandoah Rivers and Antietam Creek. River and Trail also offers bike rentals for the nearby renowned C&O Canal towpath, and guided climbing, hiking, and biking trips throughout the historic Harper's Ferry region. Located just over an hour's drive outside of Washington, DC and Baltimore, MD, River and Trail is a value-packed, convenient day trip or weekend getaway from the hustle of the cities. River and Trail is an environmentally-conscious outfitter with a comprehensive green program that includes buses operating on bio-diesel, river conservation funding, and inner city youth programs. For more information on River and Trail Outfitters, visit River & Trail or call 888-i-go-play (446-7529).
###