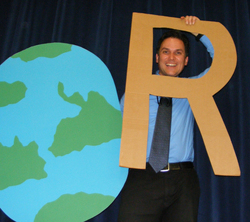 "This program is like giving schools a chance to bring a PBS program or a science center exhibit direct to their students"
Columbus, OH (PRWEB) September 17, 2010
Traditionally, the "Three R's" of education including Reading, Writing, and Arithmetic, but as Ohio students return for another year of school this fall, Midwest School Shows, wants them to add another "R" to the list – "Recycling". The school assembly and enrichment program company has announced that their "Think Green: A Healthy Planet Show" will be available to Ohio schools for the first time starting this October.
"Think Green: A Healthy Planet Show" is a hands on and entertaining presentation that teaches kid-friendly environmental messages through the use of humor, magic tricks, and colorful props that students get to interact with. From reminders like "turn off the water while brushing your teeth" to learning about what happens when paper is recycled, everything in the "Think Green: A Healthy Planet Show" is designed to show kids that everyone can make a difference to help save the planet and help make their school a little "greener".
"This program is like giving Ohio schools a chance to bring a PBS program or a science center exhibit direct to their students", says David Harpol of Midwest School Shows, "We are very excited to the have the program as part of our new school assembly line-up for the 2010-2011 school year."
In recent years, many schools in Ohio have adopted "green" practices that include recycling programs, and the use of more environmentally friendly supplies and materials in the classroom. Some schools are taking the imitative one step further by becoming a LEED Certified Green School or earning other environmental and green school certifications.
"Think Green: A Healthy Planet Show" has been entertaining students in schools across the United States since 2008, but this school year will be the first time this environmental school assembly program will be available to all Ohio schools.
"Think Green: A Healthy Planet Show" is currently accepting bookings in Ohio schools for the 2010-2011 school year. Discounts and special rates are available for select dates throughout the school year, and to Ohio schools who schedule the assembly program with multiple schools in their district. Contact Midwest School Shows at (586)913-3036 or visit http://www.midwestschoolshows.com for more information.
---
About Midwest School Shows:
Midwest Schools Shows has been the leading provider of educational enrichment assemblies to schools in Ohio, Michigan and across the Midwest. They specialize in assembly programs that support elementary grade level curriculum such as science, social studies, and reading. Their assembly programs and family night presentations on bullying and character building have been recognized by educational and family organizations in the states of Ohio, Michigan, and Illinois for being a positive resource in bullying prevention in schools.
Midwest School Shows on Facebook: http://www.facebook.com/schoolshows
###