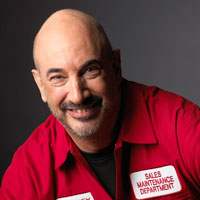 LOS ANGELES, CA (PRWEB) March 21, 2013
Jeffrey Gitomer will deliver a keynote address at the inaugural Think and Grow Summit 2013, featuring many top experts from the business and the personal development industries. Gitomer, the legendary sales training expert and best-selling author, will speak on April 27, 2013 in Del Mar, California.
Event host and creator, Tony Rubleski, stated, "The keynote he will deliver will inspire and is based on Napoleon Hill's teachings. Serious fans of Napoleon Hill and Jeffrey's global audience will be astounded."
Gitomer is the author of The New York Times best sellers The Sales Bible, The Little Red Book of Selling, The Little Black Book of Connections, and The Little Gold Book of YES! Attitude. All of his books have been number one best sellers on Amazon.com and have appeared on the best-seller lists more than 850 times and have sold millions of copies worldwide.
"We are excited to be a part of the Inaugural Think and Grow Rich Summit 2013. The timing of the event and level of world-class business and personal development speakers presenting at the event will make for a unique and positive experience for everyone involved. We believe the conference is a terrific way to spread the word about how people can achieve success and happiness," said Don M. Green, Executive Director, The Napoleon Hill Foundation.
The other speakers and distinguished award winners will reveal ways to get ahead based on many principles they've learned from Napoleon Hill's classic book, Think and Grow Rich. Countless business leaders and high-achievers continually credit the book as a major influence on their lives and business careers. The book has sold over 80 million copies.
For media inquiries, interview requests and schedule availability, please contact Jennifer Evans at 509-981-8439 or via email: Events(at)mindcapturegroup(dot)com. Event details and information: ThinkandGrowRichSummit.com