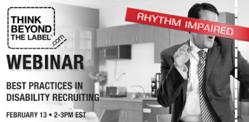 Chicago, Ill. and Tysons Corner, Va. (PRWEB) January 16, 2013
Think Beyond the Label, a private-public collaborative that connects businesses, job seekers and the public workforce system together to ensure greater employment opportunities for workers with disabilities, will host a free webinar, Best Practices in Disability Recruiting, on Feb. 13, 2013.
The webinar has been pre-approved for one general credit hour toward PHR, SPHR and GPHR recertification through the HR Certification Institute.
Brazen Careerist, a leading cloud-based recruiting technology firm that connects employers and candidates in virtual recruiting events, will co-host and moderate the webinar, which will walk employers through best practices around hiring qualified job seekers with disabilities.
Why employers should join:
Recruiting job seekers with disabilities is different than recruiting from other minority groups. Whether employers are looking to hire right away or want to build their pipeline, this free webinar details all the practical information and skills they need to effectively interact with, engage and interview a person with a disability.
DATE: Wed., Feb. 13, 2013
TIME: 2:00 – 3:00 pm EST
COST: Free
REGISTRATION: available now at http://brazencareerist.com/best-practices-in-disability-recruiting.
Participating employers will learn:

How disability recruiting is different than it is for other minority groups
How to ensure job seekers have the accessibility tools they need to interview
What language and etiquette should be used when interviewing a job seeker with a disability
Which questions are appropriate regarding accommodations for a candidate's disability
How to find and participate in virtual career fairs and other unique online opportunities to engage job seekers with disabilities
How to showcase diversity hiring initiatives to enhance the employer's brand
Featured experts include:

Barbara Otto, CEO of Health & Disability Advocates, the national advocacy organization that manages Think Beyond the Label
Laura Wilhelm, Program Director of Think Beyond the Label
More events to come:
This webinar is one in a series of virtual recruiting events this year for Think Beyond the Label and Brazen Careerist. The partners will host four online career fairs that will connect recruiters directly to qualified job candidates with disabilities nationwide who are actively seeking employment with companies that value diversity. Participating employers in 2012 included Boeing, The Hartford, Union Pacific and more. The 2013 event dates are: March 5, May 21, July 30 and Oct. 22. Online registration is available now at the Brazen Careerist website.
About Think Beyond the Label
Think Beyond the Label is a private-public collaborative that helps businesses and the public workforce system more effectively recruit, hire and retain job seekers with disabilities across 50 states. Our partnership spans state health and human service and employment agencies; businesses; and Health & Disability Advocates, a national private nonprofit organization that manages the Think Beyond the Label partnership.
Think Beyond the Label connects the entire range of job seekers with disabilities to employers looking to hire through its virtual career fairs, online jobs portal, social platforms and community profiles. One-quarter of Think Beyond the Label's 3,500 registered community members have at least five years of relevant job experience; one in three have a professional certification or college level degree or beyond. For more information, please go to http://www.thinkbeyondthelabel.com.
About Brazen Careerist
Brazen Careerist combines groundbreaking virtual recruiting events with actionable career advice and education to help professionals discover their strengths, refine their skills and find a job they love. The company helps hundreds of employers identify, engage with and hire top talent – and helps universities connect their students and alumni with each other and with top employers around the world. Hundreds of large organizations – from Amazon and Citi to Deloitte and the U.S. Department of State – use Brazen Careerist's virtual event platform, Brazen Connect. For more information, please go to http://www.brazencareerist.com.
###