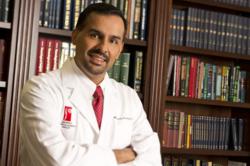 The prevention of head and spine injuries in our young adults and children is something all of us as parents should strive for. That's why organizations such as ThinkFirst are so important.
Reno, Nevada (PRWEB) April 25, 2013
ThinkFirst National Injury Prevention Foundation had its annual meeting this week in New Orleans. Dr. Lali Sekhon from Sierra Neurosurgery Group and ThinkFirst of Northern Nevada was awarded the 2013 Sponsoring Physician of the Year Award on April 24, 2013. This award is given to the physician who "has advanced the mission and programs of ThinkFirst in a significant way". Dr. Sekhon founded ThinkFirst of Northern Nevada in 2011. He received this award at the annual awards luncheon at the ThinkFirst Annual Meeting in New Orleans, Louisiana.
The ThinkFirst National Injury Prevention Foundation, was first implemented nationally in 1986. The American Association of Neurological Surgeons (AANS) and the Congress of Neurological Surgeons (CNS) initiated its development. Today, the ThinkFirst National Injury Prevention Foundation offers research-validated multi-level educational programs that have reached millions of young people nationally and internationally, has had major influences on public policy initiatives, and continues to expand to reach those most vulnerable to traumatic injuries.
ThinkFirst of Northern Nevada is based in Reno, Nevada. Sherise Smith, MS, PT, CVIS, the Chapter Director, has over 10 years experience in therapy of brain and spine injured patients and works with the organisation Rehab without Walls. The Board of directors includes three neurosurgeons from Sierra Neurosurgery Group (Lali Sekhon, MD, PhD, Jay Morgan, MD and Christopher Demers, MD) and two trauma surgeons (Martin Bain, MD and Frieda Hulka, MD, both from Western Surgical Group. Dr. Hulka has particular expertise in pediatric trauma). Also on the board of directors are Hayden Hill, MD, a brain and spine injury rehabilitation specialist and Cathi Peterson LPN. ThinkFirst of Northern Nevada aims to improve education amongst young adults in Reno and it's surrounds fostering a culture of preventative activities to reduce brain and spine injuries. Sherise Smith visits high schools to educate these yound adults on the dangers of alcohol combined with activities such as driving as well as organizing free helmet gievaways.
Dr. Sekhon is a neurosurgeon practicing in Reno Nevada with Sierra Neurosurgery Group has been involved in neurosurgical care of patients for 20 plus years. Dr. Sekhon is board certified (FRACS) and double fellowship-trained. He has special expertise in spinal disorders. Dr. Sekhon is on the editorial board of numerous national neurosurgical journals, teaches extensively and has worked in Reno since 2005.
ThinkFirst of Northern Nevada is a chapter of the ThinkFirst National Injury Prevention Foundation, founded by America's Neurosurgeons. ThinkFirst of Northern Nevada is a not-for-profit organization and welcomes donations of time and/or money through it's website http://www.thinkfirstnevada.org.