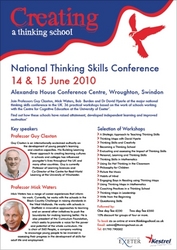 Swindon, Wiltshire (PRWEB) March 8, 2010
UK National Thinking Skills Conference
14th And 15th June 2010
Alexandra House Conference Centre, Swindon, Wiltshire
The keynote speakers at the National Thinking Skills Conference are Professors Guy Claxton and Mick Waters. Guy Claxton is an internationally acclaimed authority on the development of young people's learning and creative capacities. His Building Learning Power approach to creating learning cultures in schools and colleges has influenced young people throughout the UK and many other countries. Guy is currently Professor of Learning Sciences and Co-Director of the Centre for Real-World Learning at the University of Winchester. Mick Waters currently works with the schools in the Black Country Challenge in raising standards in the West Midlands. He works with schools in Sheffield in innovative approaches to learning and on several other initiatives to push the boundaries for making learning better. He is chair of 360 People, a company working to encourage young people to be involved in assessing their progress in the development of skills for adult life and employment.
The conference is aimed at all those involved in the development of thinking skills in young people. With 36 workshops, many led by teachers in schools which have gained recognition from the Cognitive Education Centre at the University of Exeter, there will be a wide range of practical ideas for delegates to take away. Dr David Hyerle, creator of Thinking Maps and Professor Bob Burden, Director of the Cognitive Education Centre will also be running workshops.
The Thinking Schools approach developed by the CEC and Kestrel Education has been adopted by schools across the UK and more recently in Norway and Australia. A whole-school approach to the teaching of thinking impacts on the culture of the school and helps young people to become better independent learners. The approach is unique and schools can gain recognition from the University of Exeter for the quality of their work.
Further information is available at our website at http://www.thinkingschool.co.uk
Telephone 01793 790 052
# # #