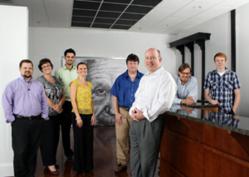 Known for their online work, including websites, social media and search engine optimization (SEO), they offer a range of services including all types of graphic design work, print advertising, television advertising, and
radio advertising.
Ridgeland, MS (PRWEB) October 31, 2012
Think Webstore is known in the Ridgeland, Madison and Jackson area as well as across Mississippi for their work in websites, social media marketing, SEO (Search Engine Optimization), print design, graphic design and business identity. Think was originally introduced in 2008 as a business identity and website design company, but their offerings quickly grew as their clients needed more varied types of work completed. Social media marketing and search engine optimization quickly became standard offerings for digital clients. As social media has gained prominence so too has Think in its technical management of it.
Now Think has grown again, this time expanding into a new studio space adjacent to their current location. This additional location will continue to build on their already wide range of services, including new professional studio space for photography and video shoots for online properties such as websites. Now Think can manage every part of a project in house -- from concept through website design, into development, production and distribution. Not only do clients have the opportunity to work in professional design space, but they get to work with Think's carefully assembled media and design team.
Think Webstore is a top tier one-stop-shop for every sort of advertising need. They are conveniently located next to Primos on Lake Harbour Drive in Ridgeland, MS. They are opened Monday - Friday, from 8:30am - 5:30 pm.
Media are invited to an Open House to come and see the new Think Studio for tours and a meet and greet on November 16, 2012, from 3:30pm - 5:00pm.
Think Webstore is a full service marketing and advertising agency located in Ridgeland, MS. Think has just expanded into a new space -- Think Studios -- that gives them even more ability and flexibility when it comes to managing and producing for their clientele.