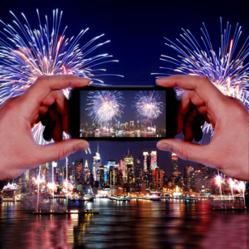 Tampa, FL (PRWEB) June 28, 2013
Accusoft today announces a 4th of July Photo Contest on its Facebook fan page for ThinPic, a photo reduction app for Apple iOS® and Android™ devices. Accusoft is looking for photo enthusiasts to submit their best 4th of July themed images taken on a mobile device, demonstrating their most creative photography skills, for a chance to win a Nikon COOLPIX® S800C 16 megapixel digital camera and ThinPic app.
Photos will be accepted from July 1 through midnight, July 8 at http://www.facebook.com/thinpic, and the name of the winner will be announced on July 10.
Available for iOS and [Android devices, ThinPic is a mobile app that reduces the size of digital photo files by up to 60% without perceptibly compromising their resolution or quality, freeing up space on users' devices. Because the files are smaller, sharing them by MMS message costs fewer data plan minutes. The smaller files also transmit far more quickly when sent as email attachments or transferred to computers or cloud storage.
For more information or to enter the photo contest, visit https://www.facebook.com/Thinpic.
ThinPic is a trademark and Accusoft is a registered trademark of Accusoft Corporation in the United States and/or other countries. COOLPIX, iOS and Android are trademarks or registered trademarks of their respective owners.
About Accusoft
Tampa-based Accusoft provides a full spectrum of document, content and imaging solutions as fully supported, enterprise-grade, best-in-class client-server applications, mobile apps, online and cloud services, and software development kits (SDKs). Accusoft products work reliably behind the scenes for capturing, processing, storing and viewing images, documents and more. Add barcode, compression, DICOM, image processing, OCR/ICR, forms processing, PDF, scanning, video, and image viewing to your applications. For more information, please visit http://www.accusoft.com.