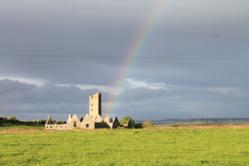 Thin places transform us... unmask us. In thin places, we become our more essential selves. -Eric Weiner
Marion Station, MD (PRWEB) March 27, 2012
Author and expert on mystical places, Mindie Burgoyne will guide travelers on an eleven-day journey to thin places in Ireland from May 12 – 22, 2012. The group will traverse ten counties visiting fifteen sacred sites where they'll experience the spiritual energy of places where the veil between this world and the Otherworld is thin.
The tour is not targeted to travelers of any particular religion. All faiths are welcomed. At each sacred site tour guests will learn about its history, learn about its legend of spiritual power, and contemplate what that means in today's world. Burgoyne will offer hints on how to notice signs and symbols along the way and interpret their meanings, how to journal as a means of continued spiritual growth after the tour is over, and how to sense the mingling of two worlds and how that connection helps the human spirit listen better to the Divine voice.
While the geographic focus of the tour is western Ireland, Dublin and the Boyne Valley will be added to a list of well known sites such as the Burren, Croagh Patrick, the Knock Shrine, Yeats' Tower, and Boa Island. Several of the stopping places on this tour such as Caldragh Cemetery, the Hill of Uisneach, Rathcroghan and Fore Abbey are part of hidden Ireland. Though they are sites of high spiritual energy, they are often skipped by commercial tours and not included in guidebooks.
In addition to Burgoyne, there will be three local Irish experts who will assist in leading the tours of the Hill of Tara, the passage tomb at Newgrange, the Rathcroghan ancient royal site, and Inis Mor, the largest of the Aran Islands. The land portion of the tour includes accommodations at 3 star hotels, transportation to all the sites, admissions, breakfasts and some dinners. There are also several free days built into the tour and stays in Galway, Sligo, Westport and Dublin. The land cost of the tour is $2055 per person based on double occupancy.
"These tours are not about piling into a bus and stopping to see some standing stones and abbey ruins," states Burgoyne. "Our tours are about becoming an image in an ancient landscape and traveling within the context of a story. At the end of our tours, guests feel a spiritual transformation."
On March 9, 2012 the New York Times published an article on the thin places concept. Best-selling author Eric Weiner who wrote The Geography of Bliss, wrote and article for the Travel section entitled Where Heaven and Earth Come Closer. Weiner makes a case for travel with purpose and travel with the intent to exercise the spirit as a means to finding happiness.
Mindie Burgoyne, a Maryland author and travel writer, has been traveling to Ireland researching thin places for twenty years. She is the author of several books including Haunted Eastern Shore: Ghostly Tales from East of the Chesapeake published by the History Press, 2009. She has two successful blogs on thin places and a travel blog called the Travel Hag. Her writing and photographs have been published by CBS News, National Geographic Television Network, the Vancouver Sun and the Maryland Tourism website. She is currently writing Thin Places: Irish Gateways to the Otherworld, due to be published in 2013