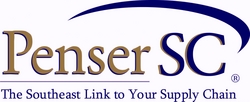 We've been blessed with enormous growth the past few years
Jacksonville, FL (Vocus) October 23, 2010
PenserSC, a third party logistics company, announced today that they have completely moved into a new warehouse facility. The warehouse, located in Jacksonville, Florida, will also serve as the corporate headquarters.
The warehouse has been in the planning stages since 2007, when CEO Shawn Barnett came on board. He and Russell O' Dell, COO, began mapping out the future and set a course that would ultimately result in the need for several new facilities. Along the way, the pair accomplished several key initiatives, including upgrading the warehouse management and inventory systems, adding skilled personnel and offering critical new services. Today, PenserSC is one of the southeast's leading logistics companies, providing warehousing and transportation, as well as newly expanded services, such as fulfillment and a freight brokerage.
Russell O'Dell represents four generations of family ownership in the growing company. In over 20 years with the company, he has seen it grow from a small warehouse to a company with a substantial regional impact.
"We've been blessed with enormous growth the past few years," O'Dell said. "It became apparent our legacy building, which we'd occupied for 50 years, would no longer be able to sustain us. The new building, which is part of our "campus" strategy, gives us flexibility to meet our client's ever-changing logistics needs."
The new building was designed with versatility in mind. It is rail served by Norfolk Southern on the rear of the building, with truck loading on both the left and right sides. It is configured with single and double deep select racking throughout to provide the greatest flexibility for storage.
"Everything about this building was designed with efficiency in mind," said Shawn Barnett, CEO, PenserSC. "Our customer's needs change and it was imperative for us to have a building that would allow us that flexibility. Utilizing our space to its fullest potential and creating maximum efficiencies allows us to pass savings on to our customers at a time when every dollar counts."
Stay informed about PenserSC by subscribing to our RSS feed @ http://www.pensersc.com/feed/
About PenserSC
PenserSC provides Southeast warehousing, transportation, fulfillment, port, import/export, rail services or just fresh ideas from a logistics team of experts. The company operates more than 1 million square feet of dry and temperature-controlled warehouse space in Jacksonville, Orlando and Miami.
###