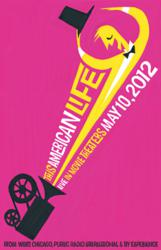 I don't know how to wave my arms around enough to say we're pulling out all the stops here, stops I didn't even know existed," said host Ira Glass. "It's going to feel like the radio show but also totally unlike anything we've done before.
New York, NY (PRWEB) May 01, 2012
What: Humorist and best-selling author David Sedaris joins host Ira Glass and the all-star cast of the special cinema event This American Life – Live! Presented by WBEZ Chicago and BY Experience in collaboration with Public Radio International (PRI), This American Life – Live! will be broadcast to more than 625 select movie theaters across the U.S., Canada and Australia.
Sedaris first appeared on radio in 1992 with the story "SantaLand Diaries," produced by Ira Glass for the public radio program Morning Edition. Since then Sedaris's books have sold more than 7 million copies and he has regularly contributed to This American Life.
When: Thursday, May 10, at 8:00 p.m. ET / 7:00 p.m. CT and tape delayed to 7:00 p.m. MT / 8:00 p.m. PT, HI and AK, with an encore presentation in select theaters from Tuesday, May 15 at 7:30 p.m. local time and varying additional screening dates and times. May 26 and 27 in Australia.
Tickets: Tickets for This American Life – Live! are available at presenting theater box offices and online at http://www.ThisAmericanLife.org/cinema, where a list of presenting theater locations and ticket prices is available (theaters and participants may be subject to change).
Broadcast live from the Skirball Center at New York University, the performance will also feature stories by writers David Rakoff and Ryan Knighton, Snap Judgment host Glynn Washington, and comedian Tig Notaro; a new short film by Mike Birbiglia; dance by Monica Bill Barnes & Company; and live music by OK Go. Audiences in movie theaters will be able to perform along with OK Go using a custom smartphone app designed for the performance. The app works on iOS (iPhone/iPod Touch/iPad) and Android platforms, and those attending the event are encouraged to download the app before the show at http://bit.ly/IAnQNm
This American Life is a weekly hour-long radio program which debuted in 1995 on WBEZ Chicago. Now distributed by Public Radio International, it is broadcast to more than 500 radio stations reaching 1.8 million weekly listeners, and often ranks as the most popular podcast in the country, averaging more than 750,000 weekly downloads. The show has won major broadcasting awards including the Peabody, duPont-Columbia and Edward R. Murrow Awards. In 2001, Time Magazine named Glass the "best radio host in America." From 2007-2008, a television version of This American Life aired on Showtime, winning three Emmy® Awards.
About WBEZ-Chicago
WBEZ 91.5FM is operated by Chicago Public Media, an institution that creates award-winning content for people seeking to learn more about the issues and ideas that affect our community, our nation, and our world. Chicago Public Media produces programs such as This American Life, Sound Opinions, Wait, Wait...Don't Tell Me!, Eight Forty-Eight, The Afternoon Shift, Worldview, and Radio M. In addition to WBEZ 91.5 FM, Chicago Public Media operates Vocalo 89.5 FM, a next generation service that seeks to expand the reach of public media. For more information, visit http://www.ChicagoPublicMedia.org
About BY Experience
BY Experience kicked off the digital revolution of live events to movie theaters and other locations globally with David Bowie's 2003 Reality album launch and since then, over 15 million tickets have been sold worldwide for cinema events BY Experience has distributed and/or produced including the Met: Live in HD series, the U.K.'s National Theatre Live series, Leonardo Live (February 2012), the New York Times speaker's series TimesTalks LIVE, the Roundabout Theatre Company's production of The Importance of Being Earnest (June 2011), Red Hot Chili Peppers Live: I'm With You (August 2011); The Big Four: Metallica, Slayer, Megadeth, Anthrax (June 2010), BBC Electric Proms: Robbie Williams (October 2009), the classic music celebrations BBC Last Night of the Proms (September 2009, 2010, 2011), St. Olaf Christmas Festival (December 2007 and December 2011), David Gilmour: Remember That Night — Live from the Royal Albert Hall (September 2007), and the public radio shows A Prairie Home Companion with Garrison Keillor (February and October 2010) and This American Life – Live! with Ira Glass (April 2008 and May 2009). BY Experience distributes to over 50 countries, to 2,000 movie screens. For more information, visit http://www.ByExperience.net
About Public Radio International®
Celebrated as a driver of innovation in public media, PRI was founded in 1983 to diversify and expand the content available on public platforms, enabling U.S. listeners to "hear a different voice™" and to connect with one another and the larger world. PRI leads by identifying critical but unmet content needs and partnering with producers, stations, digital networks and funders to develop multi-platform resources to meet those needs. By creating an environment in which innovation can thrive, PRI supports the creation and distribution of content that would otherwise be unavailable and that brings new voices, global journalism and cultural perspectives to the American public. PRI content is available on pri.org and mobile apps, via podcasts and streaming, and is broadcast on 837 public radio stations as well as Sirius XM Satellite Radio. Over 16 million people access PRI content each week through these sources. For more information, visit http://www.PRI.org